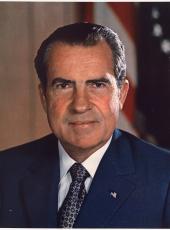 Statement on Naming Members to the American Revolution Bicentennial Commission.
IN THE LIFE of a person, no birthday is ever quite like the one before it. The same is true of a nation. Each Fourth of July America is 1 year older, 1 year's growth larger, 1 year richer in knowledge and experience.
As we celebrate this Fourth, it is appropriate that we look not only back, but also ahead. Only 7 years from now, the United States will celebrate its 200th birthday. Already, these two centuries have been a time of unparalleled human achievement. The next 7 years--beginning with man's first footstep on the moon--promise to be a time of momentous events. But as we look forward to that 200th anniversary, our aim is not to catalogue laurels to rest on, but to discover lessons to build on.
America's bicentennial can be an immensely important occasion, not only for the United States, but also for people everywhere who cherish liberty. Those who led America's Revolution spoke to their time, and to all time; their words ring as fresh and as true today as when they were written. They captured an ideal, and gave it life.
Three years ago, Congress provided for the creation of an American Revolution Bicentennial Commission "to plan, encourage, develop, and coordinate the commemoration of the American Revolution .... "1 The Commission's charter is broad; its responsibility is great. The bicentennial is more than a ceremonial occasion. The way in which we as a Nation choose to celebrate that 200th anniversary will have an important bearing on what we learn from it, and on the inspiration we draw from it.
180 Stat. 259.
I have today named 17 distinguished Americans to be members of that Commission. In doing so, I repose in them a high trust: to reach back to our Nation's founding and distill those themes that can illumine its future, and to devise the kinds of activities that can best bring alive for today's generations what that Revolution has meant for America and for mankind.
The bicentennial celebrates more than the events of the Revolution. It belongs not only to the Thirteen Original States, but equally to the newest and the farthest from those 18th-century battlefields. It is a national celebration, a national anniversary; it challenges each of the 50 States, and every community, to look to its heritage and its hopes.
We have forged one Nation from an extraordinary diversity of people, cultures, and traditions. Each generation has mastered new problems and discovered new opportunities. All this is part of the rich treasure of experience on which we must draw for the bicentennial; and our goal must be to marshal this experience so as to launch the Nation's third century with a new "Spirit of '76" that matches the first.
Note: A release issued by the White House Press Office contains the names of 17 members of the American Revolution Bicentennial Commission and is printed in the Weekly Compilation of Presidential Documents (vol. 5, p. 932).
The President's statement was released at Key Biscayne, Fla.
Richard Nixon, Statement on Naming Members to the American Revolution Bicentennial Commission. Online by Gerhard Peters and John T. Woolley, The American Presidency Project https://www.presidency.ucsb.edu/node/239533