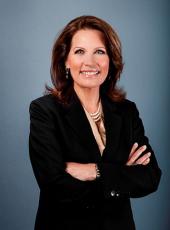 Statement by Michele Bachmann on President Obama's Statement on the S&P's Downgrade of the Credit Rating
Atlantic, Iowa — Republican presidential candidate Michele Bachmann has issued the following response to President Obama's statement on the Standard and Poor's downgrade of the U.S. credit rating:
"After a weekend of hiding out at Camp David, pretending that the Standard and Poor's ratings do not matter and hoping the markets wouldn't notice, the President discovered he was wrong on both counts. He came out just long enough today to again declare that raising taxes and cutting Medicare are his only solutions to our nation's economic crisis. He dismissed the downgrade of our country's credit rating, and argued that there's no more room for spending cuts in Washington.
"The President was right about one thing: Americans have suffered through tough times for the past two-and-a-half years. But his out-of-touch answer was to claim that the White House would work on a new plan. How many times has the President convened a council, called a meeting, or vowed to focus on job creation and economic recovery? Mr. President, the American people have spoken and now a credit ratings agency has echoed their message: your economic policies have failed.
"The President says our nation's economic problems are 'eminently solvable,' but it is painfully obvious that President Obama does not have the leadership capacity to put our country back on the right track."
Michele Bachmann, Statement by Michele Bachmann on President Obama's Statement on the S&P's Downgrade of the Credit Rating Online by Gerhard Peters and John T. Woolley, The American Presidency Project https://www.presidency.ucsb.edu/node/298812