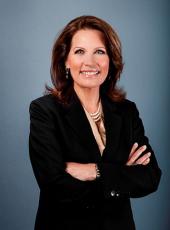 Statement by Michele Bachmann on President Obama's Comments on the Debt Debate
Alexandria, Va. — Republican presidential candidate Michele Bachmann issued the following statement today in response to President Obama's comments on the current debt debate being waged in Washington:
"At a time of trillion-and-a-half-dollar annual deficits and 9.2 percent unemployment, President Obama could not be more out of touch when he says that we only need 'modest adjustments' to fix our economy. He also said that 'we don't need a constitutional amendment to do our jobs.' Washington has failed to do its job and the problems we face are a result of that failure. A Balanced Budget Amendment would have kept President Obama from adding more than $4 trillion to our national debt.
"The current negotiations are an example of what is wrong with Washington. We should never be willing to accept what is expedient just for the sake of agreement. I cannot support a plan that allows the President to increase spending, taxes and the debt limit. We must have a fundamental restructuring of the way we spend taxpayer dollars that dramatically cuts spending and puts us on a path to balance. The President claims that 80 percent of the American people want a 'balanced approach' in addressing the current economic crisis, but the President fails to recognize that 69 percent of the American people don't want us to raise the debt limit.
"We must have the courage to make the hard decisions to make dramatic cuts in spending rather than extending our credit once again. The President says he wants to fix the economy for a 'decade.' I want to fix it for the next generation and never again have to have a debate about raising the debt limit.
"What the country needs is a 'major' adjustment in the occupancy of the White House."
Michele Bachmann, Statement by Michele Bachmann on President Obama's Comments on the Debt Debate Online by Gerhard Peters and John T. Woolley, The American Presidency Project https://www.presidency.ucsb.edu/node/298800