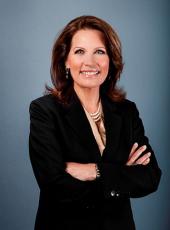 Statement by Michele Bachmann on October Jobs Report Showing Unemployment at 9 Percent
Urbandale, Iowa — Republican presidential candidate Michele Bachmann issued the following statement in response to today's jobs report showing unemployment at 9 percent:
"The only comfort today for millions of out of work Americans is that we are now one year away from American's sending a clear message by replacing this president and his failed economic policies. While the economy grew modestly last quarter, it is still 'frustratingly slow' according to Federal Reserve Chairman Ben Bernanke, and unemployment remains stubbornly high at 9 percent. But the president and his Democrat colleagues either don't understand how to turn the economy around or are so committed to rewarding political donors, like Solyndra, that they are insensitive to the plight of individual Americans. Just a few days ago Harry Reid ignorantly said that, 'It's very clear that private sector jobs have been doing just fine' although the private sector has lost jobs at three times the rate of public sector jobs since 2007.
"President Obama joined with the Occupy Wall Street protestors who believe that the problem we face is capitalism, the free markets and job creators. It's not. This is more crony capitalism — forcefully taking your money for the purpose of paying off a politician's political friends. If we are ever to get out of this ditch, President Obama, the Democrats and Occupy Wall Street need to wake up and stop blaming job creators for the failures created by selfish politicians."
Michele Bachmann, Statement by Michele Bachmann on October Jobs Report Showing Unemployment at 9 Percent Online by Gerhard Peters and John T. Woolley, The American Presidency Project https://www.presidency.ucsb.edu/node/298924