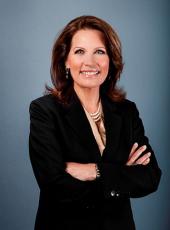 Statement by Michele Bachmann on Jobless Report Showing Unemployment at 9.1 Percent
Urbandale, Iowa - Republican presidential candidate Michele Bachmann has issued the following statement on today's jobless report showing unemployment at 9.1 percent:
"Despite today's jobs report showing a slight improvement, with 9.1 percent unemployment, it is still evidence that the President's failed economic policies are digging us deeper into a hole. The President created twice as many donors for his campaign as he created jobs in the second quarter. This week the President was handed a $2.4 trillion blank check and in return the American people got a mere $21 billion in promised spending cuts, the erosion of their personal savings in the worst stock market drop since 2008, and the promise of higher taxes before the ink had dried on the budget deal. It's time for the President to admit what the markets, the world, and the American people already know - his trillion dollar stimulus was a failure, the government can't create jobs, and massive spending kills them.
"This week the President announced that he would again pivot to focus his attention on jobs. We can only hope he will pivot away from his failed economic policies that have killed growth and put millions of Americans out of work. What the markets want and what the country needs is a fundamental restructuring in the way Washington spends taxpayers dollars that reins in unprecedented spending, gets our debt under control, and encourages pro-growth economic policies. The President can attempt to blame and spin away this week's bad economic news, but you can't fool the markets. Mr. President - the only way to dig us out of this hole your administration has gotten us into is to stop digging."
Michele Bachmann, Statement by Michele Bachmann on Jobless Report Showing Unemployment at 9.1 Percent Online by Gerhard Peters and John T. Woolley, The American Presidency Project https://www.presidency.ucsb.edu/node/298787