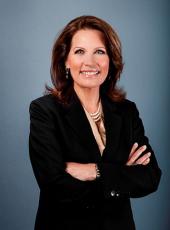 Statement by Michele Bachmann on Failure of "Super Committee" to Reach an Agreement on Debt Reduction
Republican presidential candidate Michele Bachmann issued the following statement in response to the Super Committee's failure to reach an agreement on debt reduction:
"Mr. President, your Super Committee has failed the American people. You were elected president to lead, not to ignore the problems of our country and our economy. While millions of Americans are out of work and government spending and debt are spiraling out of control, the president and the Super Committee could not reach an agreement on how to put our country back on a path to prosperity. The Committee itself is a metaphor for the overall lack of political courage that has led us to this place of crisis. Meanwhile, our nation is swiftly approaching the precipice of economic collapse and the president's leadership was nowhere to be found.
"The Super Committee could not meet their statutory charge of reducing Congress's planned increase in spending by a relatively paltry $1.2 trillion over 10 years and now have placed this country's national security at risk through the consequences of triggering severe cuts to military funding, which Defense Secretary Leon Panetta recently warned will be 'devastating for the Department,' and 'these changes would break the faith with those who maintain our military and seriously damage readiness.'
"The people we serve want the president and Congress to announce a bold bipartisan deal to cut spending and do so without raising new taxes on American families or businesses. Cutting spending will necessitate hard choices, but throughout American history we have united behind a common purpose when the best interests of our children and nation were at stake. It's time to lead."
Michele Bachmann, Statement by Michele Bachmann on Failure of "Super Committee" to Reach an Agreement on Debt Reduction Online by Gerhard Peters and John T. Woolley, The American Presidency Project https://www.presidency.ucsb.edu/node/298921