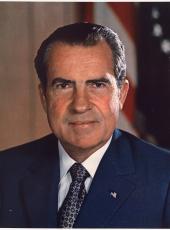 Statement on Medical Care for the Aged by the Vice President of the United States Upon Arrival, Grand Forks, ND
Approval by President Eisenhower of the new law providing additional medical care for some 2½ million people 65 and over, and a new medical care program for millions of others, is an important step forward toward a new life in America.
As soon as the States take full advantage of this measure, no older person will be deprived of medical care because of lack of financial resources. This law puts those who have a deep concern for the health problems of the aged in a position where they can demand that mere talk be replaced by action. I hope that all State Governors will move with the least possible delay to bring these programs into full effect.
This sensitive response of government to critical human needs is in the tradition of our free system. A great merit of it is that it directs Federal help where it is most needed - to unfortunates on public assistance rolls and to the low-income elderly who are unable to meet major medical expense.
But it is important for all of us to realize that, helpful though this forward step is, it is only that - a forward step. Beyond the reach of this measure are needs still unfulfilled. As stated during the Senate's consideration of this legislation, it is not enough to assist in this area only after disaster strikes.
Responsible government will see to it that all older citizens are so positioned as to be able to protect themselves in advance against the economic burden of serious illness - through their own efforts and resources where possible, but supplemented as necessary by government.
This need, still unmet, requires priority attention by the next Congress. The program must be a voluntary one, avoiding compulsory medical care as well as compulsory participation in medical care programs. It would support rather than discourage private medical insurance efforts. And it should make certain that Federal assistance is joined with State and individual effort and is kept related to genuine need.
By contrast, the program advanced by the opposition is a compulsory program. It is a program operated by the Federal Government instead of the States. It is a program that gives unneeded help to the wealthy. It is a program that excludes at least 3 million people 65 and over with incomes of $2,000 a year or less.
The August session of Congress demonstrated very clearly that, even with a 2-to-1 majority, opposition leaders cannot obtain approval of their extreme compulsory program. It is equally clear from the August session that those leaders cannot persuade many in their own party to support the compulsory approach. When, therefore, they hold out to our senior citizens that a compulsory program would be preferable, the proposal is not only a wrong one - it is also an empty one. It represents words, not action.
Let us, therefore, build realistically, as I have proposed, on the advance made by this new law just approved by the President. This is the way for us to make real progress in dealing with the human problems, the kind of progress which the whole world associates with free America.
Richard Nixon, Statement on Medical Care for the Aged by the Vice President of the United States Upon Arrival, Grand Forks, ND Online by Gerhard Peters and John T. Woolley, The American Presidency Project https://www.presidency.ucsb.edu/node/273899