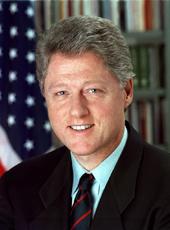 Statement on Line Item Vetoes of the Energy and Water Development Appropriations Act, 1998
I have used my line item veto today to save taxpayers $19 million by canceling eight projects in the 1998 Energy and Water Appropriations Act that are unwarranted.
Today marks the sixth time I have used my line item veto authority to save the taxpayers money by canceling unjustified, special interest provisions. The savings are real—$2 billion to the taxpayers. Just as important, the threat of a line item veto serves as a deterrent to illconceived, special interest spending proposals.
For today's action, the cancellations include five water projects that I did not request in my budget; that are new rather than ongoing projects; that have greater costs than benefits; that are recreational for a limited number of people; or that should be funded at the local level. I also canceled three projects that are unwarranted corporate subsidies.
In taking this action, I tried to show deference to Congress' role in the appropriations process. I accepted the vast majority of the 423 projects in this bill that I did not request in my budget. Nevertheless, I feel strongly that my administration should look for opportunities to save taxpayer dollars by striking unwarranted provisions of bills that come before me.
In addition, I am also announcing today that I want to work with Congress to find a solution to the growing problem of future liabilities and extended delays in completing ongoing projects. Each year, Congress adds more and more projects without sufficient resources to complete existing projects in a timely way. Some of them include 50-year Federal commitments, involving hundreds of millions of dollars. The more projects are added, the longer the delays in finishing the existing ones.
Because of limited Federal resources, the gap between the number of projects that are approved and the number we can afford will keep growing. I believe that now is the time for the administration and Congress to address the problem. I have asked the administration's senior officials who work in this area to reach out to the key Member of Congress to work toward a solution.
NOTE: The reports detailing the cancellations were published in the Federal Register on October 20. H.R. 2203, approved October 13, was assigned Public Law No. 105-62.
William J. Clinton, Statement on Line Item Vetoes of the Energy and Water Development Appropriations Act, 1998 Online by Gerhard Peters and John T. Woolley, The American Presidency Project https://www.presidency.ucsb.edu/node/223628