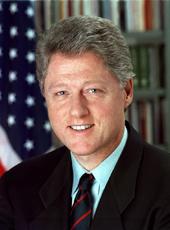 Statement on Line Item Vetoes of the Department of Defense Appropriations Act, 1998
Over the past 4 1/2 years, my administration has worked hard to cut the deficit and to ensure that our tax dollars are used wisely, carefully, and effectively. We have reduced the deficit by 85 percent even before enacting the historic balanced budget legislation this past summer.
The line item veto gives the President an important tool to save taxpayers money, avoid unnecessary Government spending, and ensure that the national interest prevails over narrow interests. It will enable America to continue the fiscal discipline that has helped create our strong economic expansion. And by allowing a President to sign important legislation while canceling projects that do not meet important national goals, it will change the way Washington works.
America must—and will—continue to have the world's strongest military. We have an obligation to manage our defense budget with both national security and fiscal responsibility in mind. Every penny of our defense dollars should be used to sustain and strengthen the best trained, the best equipped, and the best prepared Armed Forces in the world.
Today, for the third time, I am using the line item veto to cancel 13 projects inserted by Congress into the Department of Defense's appropriations bill. These cancellations will save the American taxpayer $144 million. This use of the line item veto will help ensure that we focus on the projects that will best secure our strength in the years to come.
I canceled the projects because they were not requested in my fiscal year 1998 budget, and because either they were not contained in our future years defense program or the Department of Defense determined that they would not make a significant contribution to U.S. military capability. In two cases, I canceled items that had broader policy implications for longstanding U.S. national security policy. I have been assured by the Secretary of Defense that none of the cancellations would undercut our national security or adversely affect the readiness of our forces or their operations in defense of our Nation.
As I said last week, I will continue to scrutinize other appropriation bills, using appropriate criteria in each instance, and I will exercise the line item veto when warranted.
NOTE: The reports detailing the cancellations were published in the Federal Register on October 15. H.R. 2266, approved October 8, was assigned Public Law No. 105-56.
William J. Clinton, Statement on Line Item Vetoes of the Department of Defense Appropriations Act, 1998 Online by Gerhard Peters and John T. Woolley, The American Presidency Project https://www.presidency.ucsb.edu/node/223578