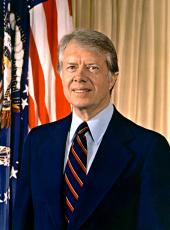 Statement on Libraries Issued at the 100th Anniversary Convention of the American Library Association
Congratulations on your convention. I trust that it will be productive.
My first position in public life was as a member of the Sumter County, Georgia, Library Board. Through this experience, I became increasingly aware of the crucial importance of libraries in furthering education in our country.
Well-stocked libraries open to all are essential to our democratic system of government. As President Kennedy said in 1963, "Good libraries are as essential to an educated and informed people as the school system itself. The library is not only the custodian of our cultural heritage but the key to progress and the advancement of knowledge."
During the last four years under Presidents Nixon and Ford, budget cutbacks, freezes and impoundments have forced libraries all over the nation to sharply curtail their programs.
Because of federal cutbacks and local budget stringencies, academic and research libraries have been forced to sharply curtail their acquisition of library materials. Some of the greatest center city public libraries have had to reduce their hours of service, lay off personnel, and eliminate programs.
In libraries, as in other areas, we need efficiency and sound management of our limited resources. We need to organize our library services so that they can effectively serve the public. We need to coordinate federal help for libraries so that the assistance reaches those who need it and so that waste and duplication are eliminated.
Streamlining of government, and coordination between the federal government and the states must be pursued with vigor. At present, federal assistance is uncoordinated, confused and multi-faceted.
I believe that federal help for the nation's library system should be funded on a sustained and stable basis. If we are to have an educated and informed population we need a strong and open library system supported by a committed administration.
I believe that federal library help must be rationalized, consolidated and streamlined. This process of cutting red tape should be accompanied by a commitment to do likewise. Consolidation should not be a codeword for cutbacks. Adequate funding must be available.
I believe that the public should have more input into the decisions concerning the role of their local libraries. A nationwide series of library conferences culminating in a White House Conference is one method of implementing this process.
Libraries are a national resource, and all of the nation must share in their upkeep. By the same token all of the nation must have access to the information contained in our many and diverse libraries. The strength of our system of government is the collective wisdom of our people. Our libraries are one crucial foundation of that wisdom.
Jimmy Carter, Statement on Libraries Issued at the 100th Anniversary Convention of the American Library Association Online by Gerhard Peters and John T. Woolley, The American Presidency Project https://www.presidency.ucsb.edu/node/347619