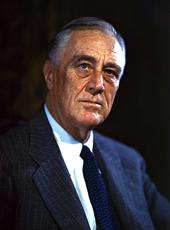 Statement on Labor Day.
American workers can observe this Labor Day in the proud knowledge that in the battle of production their free labor is triumphing over slave labor. It was their determination to safeguard liberty and to preserve their American heritage for coming generations that made possible the greatest production achievement in the world's history.
Our soldiers, sailors, and marines are carrying on an amazing offensive all over the world. They are doing it with the finest weapons in the world- weapons which have been made possible only by the unwavering loyalty and unflagging resolution of the workers and managers of our industries.
The position of our battle lines in Italy, in France, and in the Pacific zone today is greatly dependent on the production miracle which labor and management and farmers have accomplished.
We now have the enemy on the run. Yet we must face the prospect that the hardest fighting and the biggest job of supply are still ahead of us. Our needs for the products of our industries, mines, and farms- weapons, raw materials, transportation, and food- are as urgent as ever.
Our immediate job is victory. To attain it quickly will require the fullest utilization of our manpower and woman power in the production of the necessary weapons of war. American labor can be depended on, I know, to continue to devote itself primarily to that task.
Once the forces of tyranny have been overcome, we shall be faced with difficult problems of transition from war to peace. There will be matters of international arrangements as well as questions of internal economic policy. What we do in both spheres will affect our success in attaining a durable world peace —a peace which will contribute to the progress of mankind, and will give to all who work and produce, an opportunity constantly to better their own lives.
In the solution of these problems we will need the cooperation of free American workers, free American employers, and free American farmers. I am confident that we shall have it in days of peace as we have had it in days of war.
Franklin D. Roosevelt, Statement on Labor Day. Online by Gerhard Peters and John T. Woolley, The American Presidency Project https://www.presidency.ucsb.edu/node/209789