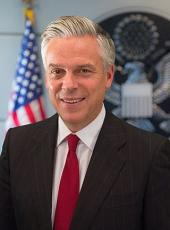 Statement by Jon Huntsman - The Blessing That is Our Family
Meet the Huntsmans - Jon, the children, and me. We are, perhaps, a slightly different kind of family. We're larger than some, with seven kids, but who's counting! Some of them are out of college, some in the military and some still at home with Mom and Dad.
Skype keeps us all together, wherever we are. We are a family that loves this country and seeks to serve her. A family that's fun to be a part of and one that's never, ever boring. Jon and I met in high school. He was a rocker - the keyboardist in the band "Wizard." They were great. Jon and I worked together at Marie Callender's. He says I was the salad girl that stole his heart. I would have to say it's the other way around. We were married 28 years ago. His overseas posts and positions have seen us all living in different places around the world. We have learned together and shared so much.
Let me tell you a little bit about our seven beautiful children. Mary Anne is our first-born. Just like her father, she's an accomplished keyboardist. Unlike her father, Mary Anne became a concert pianist. She's strong, vibrant and a great big sis to all. Abigail has worked in PR and as a journalist. She's a Penn graduate like Jon. Married in 2010 to Jeffrey Livingston, Abigail and Jeffrey recently returned from a stint in Beijing.
Elizabeth is also a Penn graduate. Liddy now lives in Washington, D.C., and, like me, devotes her time to Jon's campaign. Jon III is a U.S. Naval Academy cadet, class of 2014. In his free time, Jon III is the drummer in our family rock band and an extreme biker.
William will also be a U.S. Naval Academy cadet, class of 2016. He will play football for the Naval Academy and continues to study Chinese. He is the family band's guitarist. Gracie Mei is now 12. We adopted her after she was abandoned in a Chinese market as an infant. She is a joy, always keeps us laughing and has her father wrapped around her little finger.
Asha Bharati is the youngest Huntsman. We brought Asha home from a Catholic orphanage in India, Christmas 2006. The family's best Mandarin speaker, happy-go-lucky Asha consistently melts our hearts.
Jon Huntsman, Statement by Jon Huntsman - The Blessing That is Our Family Online by Gerhard Peters and John T. Woolley, The American Presidency Project https://www.presidency.ucsb.edu/node/298893