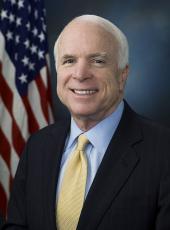 Statement By John McCain On Venezuela
ARLINGTON, VA -- Today, U.S. Senator John McCain delivered the following statement on Venezuela and Ambassador Duddy's expulsion by the Venezuelan government:
"I am deeply disappointed by the decision of Venezuela's government to expel U.S. Ambassador Duddy. This diplomatic escalation, which follows Bolivia's expulsion of the American ambassador there, reminds us anew of the dangerous trends in our own hemisphere.
"Venezuelan President Hugo Chavez's authoritarian regime represses its people and is attempting to buy support in Bolivia and elsewhere. The threat posed by Chavez extends beyond his borders. He stands credibly accused of aiding terrorists trying to subvert a democratic neighbor in Colombia. Senior Venezuelan military and intelligence officials have been named as supporters of narco-terrorist activities. Russian strategic bombers recently landed in Venezuela. Joint Russian-Venezuelan naval exercises in the Caribbean have been announced. Russia has provided Chavez with over 100,000 AK-47 assault rifles with a factory to build more. Venezuela's arms build-up -- which reportedly includes Russian-supplied combat helicopters, advanced SU-30 fighter-bombers, and other weapons systems, is unjustified by any realistic external threat.
"America's continued dependence on imports of foreign oil from countries like Venezuela demonstrates the need to expand drilling for our own domestic sources of energy. Senator Obama opposes this critical step to lessen our dependence on imported oil from dictators like Hugo Chavez -- at a time when Chavez is threatening to cut off oil exports to the U.S.
"I have worked with America's allies in order to strengthen our relationships in this crucial region, one to which so many American citizens have deep economic, family and cultural ties. And I have worked to isolate and weaken the forces that threaten freedom and prosperity in Latin America.
"In contrast, Senator Obama calls for meeting directly and unconditionally with the region's worst tyrants. Though Senator Obama has never been to Latin America, rather than focus on strengthening America's ties with friends and allies, he has pledged to sit down with dictators in Venezuela and Cuba in the first year of his presidency. Such a course of action would undermine our democratic allies and embolden anti-American dictators. The United States, and our partners throughout Latin America, cannot afford Senator Obama's brand of unilateralism that rewards Hugo Chavez and his dangerous despotism."
John McCain, Statement By John McCain On Venezuela Online by Gerhard Peters and John T. Woolley, The American Presidency Project https://www.presidency.ucsb.edu/node/291072