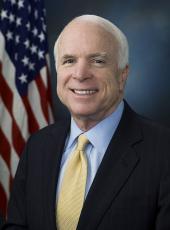 Statement By John McCain On Syria And North Korea
ARLINGTON, VA -- U.S. Senator John McCain today issued the following statement on today's news regarding Syria and North Korea:
"The latest news about North Korean proliferation to Syria is very troubling, but not surprising. North Korea has not acted in good faith for more than a decade, despite intense efforts by the United States and others to engage it in diplomacy. Nor has North Korea met the terms of the Six Party February 13, 2007 agreement. Now Pyongyang is refusing to disclose full details of their own nuclear programs and has actively aided another dangerous regime acquire the wherewithal to develop nuclear weapons in the future -- a regime that directly threatens the survival of the state of Israel. These activities stand in clear violation of United Nations Security Council Resolutions and deserve the widest possible condemnation by the international community.
"The goal of our diplomacy must be an agreement that advances America's national interests in the full denuclearization of North Korea and the cessation and full accounting of North Korea's proliferation activities. Any agreement must be completely verifiable, and must take into account the interests of our democratic allies in South Korea and Japan. In addition, it would be a serious mistake to exclude from the negotiations our legitimate concerns regarding North Korea's egregious human rights abuses.
"Those who say that we only need to meet unconditionally with Kim Jong Il rather than apply meaningful multilateral pressure should explain to the American people how talking unconditionally to dictators like Kim Jong Il in the aftermath of recent disclosures advances American interests. Our diplomacy must be based on more than hope."
John McCain, Statement By John McCain On Syria And North Korea Online by Gerhard Peters and John T. Woolley, The American Presidency Project https://www.presidency.ucsb.edu/node/291019