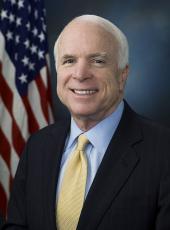 Statement By John McCain On Senator Obama And National Security
ARLINGTON, VA -- U.S. Senator John McCain today issued the following statement:
"After Senator Obama's own advisors and supporters backtracked from his stated desire to hold summit meetings with the leaders of the world's worst regimes, Senator Obama himself has begun to reinterpret his stand. He now claims that some 'fear' to 'negotiate' with the likes of Iranian President Ahmadinejad, who has called Israel a 'stinking corpse' or Ayatollah Khamenei, who called Israel a 'cancerous tumor.' I have news for Senator Obama: I have met some very bad people before in my life. It is not fear that drives my opposition to unconditional meetings with Ahmadinejad, Khamenei, Kim Jong Il, and Raul Castro; rather it is my clear understanding that such a course will fail to eliminate the threat posed by these rogue regimes. I don't fear to negotiate. Instead I have the knowledge and experience to understand the dangerous consequences of a naive approach to Presidential summits based entirely on emotion.
"The question before the American people is which candidate is best able to secure the peace for the next generation of Americans, a peace that will keep our nation safe, prosperous and free. Senator Obama's desire to meet unconditionally in his first year at the presidential level with Iranian leaders is reckless, and demonstrates poor judgment that will make the world more dangerous. With respect to Cuba, it is not America that needs to make unilateral concessions to the Castros -- a 'gesture of good faith' as Senator Obama said yesterday -- it is the Castro brothers who must allow the freedom they have so long denied to the Cuban people. Free the political prisoners, open the media, allow people to worship, schedule free and fair elections, and the United States will be happy to meet and talk. Until then, we cannot compromise our principles.
"Senator Obama has consistently offered his judgment on Iraq, and he has been consistently wrong. He said that General Petraeus' new strategy would not reduce sectarian violence, but would worsen it. He was wrong. He said the dynamics in Iraq would not change as a result of the 'surge.' He was wrong. One year ago, he voted to cut off all funds for our forces fighting extremists in Iraq. He was wrong. Sectarian violence has been dramatically reduced, Sunnis in Anbar province and throughout Iraq are cooperating in fighting al Qaeda in Iraq, and Shi'ite extremist militias no longer control Basra -- the Maliki government and its forces do. British and Iraqi forces now move freely in areas that were controlled by Iranian-backed militias. The fight against al Qaeda in Mosul is succeeding in further weakening that deadly terrorist group, and many key leaders have been killed or captured. As General Petraeus said last month, 'As we combat AQI we must r emember that doing so not only reduces a major source of instability in Iraq, it also weakens an organization that Al Qaeda's senior leaders view as a tool to spread its influence and foment regional instability.' Iraqi forces have moved unopposed into Sadr City, a development the New York Timescharacterized today as a 'dramatic turnaround' as the government of Prime Minister Maliki 'advanced its goal of establishing sovereignty and curtailing the powers of the militias.'
"We continue to face challenges in Iraq, and we have a lot of work ahead. Yet the American people must ask whether we are more or less likely to succeed there if Senator Obama has his way. Each of these positive developments in Iraq is the direct result of the new strategy that Senator Obama opposed. Senator Obama consistently predicted the new strategy would fail, and at every step events have demonstrated his judgment was consistently wrong. He now says that he intends to withdraw combat troops from Iraq -- one to two brigades per month until they are all removed -- regardless of the conditions in Iraq, irrespective of the consequences for our national security, and despite the best advice of our commanders on the ground. He is wrong again, and the American people deserve a President who has the strength, judgment and experience to keep our country safe and secure."

John McCain, Statement By John McCain On Senator Obama And National Security Online by Gerhard Peters and John T. Woolley, The American Presidency Project https://www.presidency.ucsb.edu/node/291016