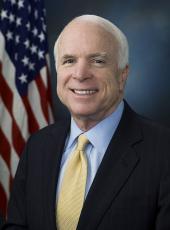 Statement By John McCain On China And The Olympic Games
ARLINGTON, VA -- U.S. Senator John McCain today issued the following statement on China and the Olympic Games:
"Our relationship with China is important, and we value our ability to cooperate with the Chinese government on a wide variety of strategic, economic, and diplomatic fronts. But the Chinese government needs to understand that in our modern world, how a nation treats its citizens is a legitimate subject of international concern. China has signed numerous international agreements that make China's treatment of its citizens a subject of legitimate international concern, not just a matter of national sovereignty. To be a responsible stakeholder in the modern world, a government must also be responsible at home, in protecting, not trampling, the rights of its people.
"I deplore the violent crackdown by Chinese authorities and the continuing oppression in Tibet of those merely wishing to practice their faith and preserve their culture and heritage. I have listened carefully to the Dalai Lama and am convinced he is a man of peace who reflects the hopes and aspirations of Tibetans. I urge the government of the People's Republic of China to address the root causes of unrest in Tibet by opening a genuine dialogue with His Holiness, the Dalai Lama, aimed at granting greater autonomy. I urge the Chinese authorities to ensure peaceful protest is not met with violence, to release monks and others detained for peacefully expressing their views and to allow full outside access to Tibet.
"I understand and respect Prime Minister Brown's decision not to attend the Olympic opening ceremonies. I believe President Bush should evaluate his participation in the ceremonies surrounding the Olympics and, based on Chinese actions, decide whether it is appropriate to attend. If Chinese policies and practices do not change, I would not attend the opening ceremonies. It does no service to the Chinese government, and certainly no service to the people of China, for the United States and other democracies to pretend that the suppression of rights in China does not concern us. It does, will and must concern us."
John McCain, Statement By John McCain On China And The Olympic Games Online by Gerhard Peters and John T. Woolley, The American Presidency Project https://www.presidency.ucsb.edu/node/290992