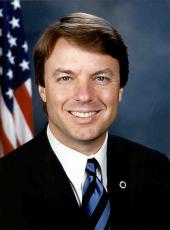 Statement by John Edwards Responding To Romney's Attacks On Middle And Working Class Tax Relief
Chapel Hill, North Carolina – Senator John Edwards released a statement today in response to Republican Mitt Romney's attacks on his tax cut proposal for middle and working class Americans. Yesterday, Edwards announced a plan to reform our tax code to reward work, not the privileges of the insiders, and help regular families get ahead.
"Every time another radical Republican running for president speaks, the American people are reminded of how out of touch with economic reality they are. Example A: Mitt Romney.
"Romney, who is worth hundreds of millions of dollars, should be ashamed for attacking my economic plan, but it's not surprising he is. I want to rewrite our tax code to make it fair and help hard-working Americans save some money to give them a better shot at the American Dream. Mitt wants to make sure that the wealthiest Americans just keep getting wealthier and let everyone else pick up the scraps. Mitt's all about more, more, more for the people who already have the most - and that's just wrong.
"The truth is Mitt Romney shouldn't pay lower taxes on the money he makes from his money than middle-class families pay on the money they make from hard work. Neither should I. We're both incredibly fortunate and we should pay our fair share.
"That's the big difference between people like Mitt Romney and me. Mitt Romney thinks he and his insider friends helped make America great, I think it's the hundreds of millions of Americans in the working class and middle class who make America great. It's these hard-working families who deserve a break and a chance to live the same American Dream as I have. That's what I'm fighting for, and that's what people like Mitt Romney have spent a lifetime fighting against."
John Edwards, Statement by John Edwards Responding To Romney's Attacks On Middle And Working Class Tax Relief Online by Gerhard Peters and John T. Woolley, The American Presidency Project https://www.presidency.ucsb.edu/node/293887