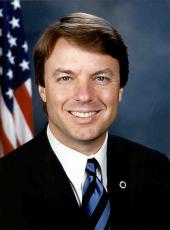 Statement by John Edwards Calling On President Bush To Suspend Negotiations For A Free Trade Agreement With South Korea
Chapel Hill, North Carolina – Senator John Edwards released the following statement today following the conclusion of this week's trade negotiations between the United States and the Government of South Korea.
"Thousands of American autoworkers learned this week that they will lose their jobs because of ill-conceived and poorly enforced trade agreements - and what is the Bush Administration doing? It's working overtime to sign a trade agreement with a country that refuses to open its market to American cars.
"Enough is enough. President Bush should shut down all trade negotiations with South Korea until they prove their willingness to open their market to American automobiles and other U.S. products and agree to trade fairly.
"The huge loss of jobs announced this week by DaimlerChrysler should be a wake-up call for this president: one-sided trade agreements hurt working families.
"Instead of stubbornly pursuing policies that put Americans out of work, the Administration should focus on making sure new agreements include real labor and environmental protections and should enforce our rights under existing trade agreements. And the Congress should make it clear to the President that it will override any agreement that does not protect American jobs and American interests."
South Korea exported about 800,000 vehicles to the U.S. in 2005, while U.S. carmakers sold only about 4,000 cars in South Korea. South Korea maintains a number of regulatory hurdles that block American cars, including safety and emissions standards applied only to imported cars. A trade deal with South Korea could be the biggest since NAFTA in 1993.
John Edwards, Statement by John Edwards Calling On President Bush To Suspend Negotiations For A Free Trade Agreement With South Korea Online by Gerhard Peters and John T. Woolley, The American Presidency Project https://www.presidency.ucsb.edu/node/293540