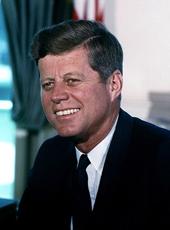 Statement Issued by Senator John F. Kennedy to Chinese-American Citizens, Hyannis Inn Motel, Hyannis, MA
"Chinese-American citizens will vote overwhelmingly Democratic in November," Mr. Gung-Hsing Wang of Chicago, Ill., predicted today in a visit with Senator John F. Kennedy at the Senator's home in Hyannis Port, Mass.
Mr. Wang told the Democratic candidate for President that there are three good reasons why the Democratic Party appeals to Chinese-Americans.
First, the party's sure-footed, sound, and effective program in dealing with the problem of world communism; second the party's enlightened immigration policy; and third because of the party's interest and concern for the common folks who are the great majority of the people.
The meeting with Senator Kennedy was one of a series at Hyannis Port and included leaders of civic and fraternal organizations representing Americans of recent immigrant background of 21 national origins. Mr. Wang was 1 of the 38 members of the nationalities division of the Democratic National Committee from various States attending.
Senator Kennedy pledged that "high priority" would be given by a Democratic administration to the platform plank calling for amendments to the immigration and naturalization laws to ban discrimination based on national origin.
"Our Democratic platform specifically states that we must remove the distinctions between native-born and naturalized citizens to assure full protection of our laws to all," the Senator declared.
It points out that the protections provided by due process, right of appeal, and statutes of limitation can be extended to noncitizens without hampering the security of our Nation. I shall insist that this pledge be given high priority-
Senator Kennedy asserted:
There is no place for second-class citizenship in America.
Gov. G. Mennen Williams (Michigan) chairman of the nationalities division attended the meeting along with Congressmen Thaddeus Machrowicz (Democrat, Michigan), Henry S. Reuss (Democrat, Wisconsin) and Mayor B. F. Voorde, of South Bend, Ind., members of the nationalities division.
Mr. Wang reported to Senator Kennedy that lie is organizing Chinese-American citizens to work for a Democratic victory in November. Already underway in Chicago, Mr. Wang said that he plans to expand his efforts to other parts of the country with concentrations of Chinese-American population.
John F. Kennedy, Statement Issued by Senator John F. Kennedy to Chinese-American Citizens, Hyannis Inn Motel, Hyannis, MA Online by Gerhard Peters and John T. Woolley, The American Presidency Project https://www.presidency.ucsb.edu/node/274467