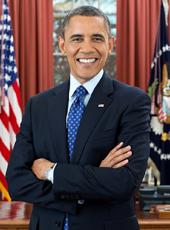 Statement by Incoming White House Press Secretary Robert Gibbs on the Meeting Between President-Elect Obama and President Calderón
President-elect Obama was very pleased to meet today with Mexico's President Calderón, and he hopes this early meeting helps emphasize the high importance he places on a strong and deep relationship with Mexico. President-elect Obama was grateful to President Calderón for his hospitality, for the opportunity to have such warm and productive discussions and for the special tour of the art collection at the Mexican Cultural Institute.
There is a long-standing tradition of U.S. presidents meeting with Mexico's president prior to being sworn in, and this meeting was in keeping with that tradition.
President-elect Obama expressed his commitment to advance cooperation on a range of issues, including security, the economy and immigration.
On security, President-elect Obama underscored his interest in finding ways to work together to reduce drug-related violence. He applauded the steps that President Calderón has taken to improve security in Mexico and expressed his on-going support for the valuable work being done under the Mérida Initiative. President-elect Obama believes the cooperation under the Mérida Initiative can be a building block for a deeper relationship. President-elect Obama expressed support for efforts in the border states in both the United States and Mexico to eradicate drug-related violence and stop the flow of guns and cash. He told President Calderón that he intends to ask the Secretary of Homeland Security to lead an effort to increase information sharing to strengthen those efforts. He pledged to take more effective action from the United States to stem the flow of arms from the United States to Mexico.
On trade and the economy, President-elect Obama said that with both countries facing very difficult economic times, it's important to work together to maintain a constructive and comprehensive dialogue. He expressed his continued commitment to upgrading NAFTA to strengthen labor and environmental provisions to reflect the values that are widely shared in both of our countries, and proposed the creation of a consultative group to work on a host of issues important to the United States and Mexico, including NAFTA, energy and infrastructure. President-elect Obama noted that his economic recovery plan includes substantial investments for port of entry modernization and improvements on the Mexican border to facilitate legal trade and commerce. President-elect Obama told President Calderón that he is impressed by the commitment Mexico made at the Poznan conference and said he hoped our two countries could soon begin conversations about mutually beneficial opportunities in low carbon energy development and carbon abatement opportunities.
President-elect Obama underscored his commitment to working with Congress to fix the broken U.S. immigration system and fostering safe, legal and orderly migration. He expressed his strongly held view that immigrants should be treated with dignity and that the immigration debate should not be a vehicle for vilifying any group, and that our two countries need to work more effectively to stop the flow of illegal immigration into the United States.
President Calderón was joined in the meeting by Foreign Secretary Patricia Espinosa, Interior Secretary Fernando Gomez Mont, Treasury Secretary Agustín Carstens and Ambassador to the United States Arturo Sarukhan.
President-elect Obama was joined by Chief of Staff Designee Rahm Emanuel, National Security Advisor Designee General Jim Jones (Ret.) and White House National Economic Council Director-Designee Lawrence Summers.
The meeting was held over lunch at the Mexican Cultural Institute in Washington, DC, and lasted for one and a half hours. Following the meeting, President Calderón and President-elect Obama walked through the José Clemente Orozco Gallery which houses an important collection of Mexican art, including works by Robert Cueva Del Río, Diego Rivera and David Alfaro Siqueiros.
Barack Obama, Statement by Incoming White House Press Secretary Robert Gibbs on the Meeting Between President-Elect Obama and President Calderón Online by Gerhard Peters and John T. Woolley, The American Presidency Project https://www.presidency.ucsb.edu/node/286785