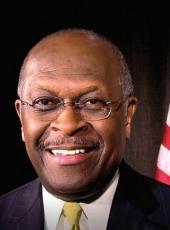 Statement by Herman Cain - Obama's Failed Leadership Causes Lower than Expected GDP
President Obama's Department of Commerce today announced that the country's GDP grew at a meager 2.0 percent for July to September and lower than the advance estimates of 2.5 percent. This discouraging news is on top of 9 percent unemployment and more than 46 million Americans continue to be below the poverty line. Republican Presidential candidate, businessman and entrepreneur Herman Cain issued the following statement:
"Obama's leadership again is failing Americans as anemic GDP numbers released by the Commerce Department show his Great Recession continues to stifle job creation and prosperity building. He refused to standup and lead the Super Committee in cutting wasteful bureaucracy, and his healthcare takeover and constant talk of tax hikes leaves businesses without the resources and long-term direction to plan for the future.
Our '999 Plan' crushes the barriers blocking prosperity, expands the GDP by $2 trillion, simplifies the tax code for every American along while creating six million new jobs and increasing business investment by one-third and wages by 10 percent.
I'm not a career politician. I'm a husband, father and grandfather. I'm a businessman and entrepreneur who knows how to create jobs and tackle complex problems – and I'm fighting for Americans everywhere who are fed up with Washington's reckless agenda of higher taxes, more spending, more government takeovers, and rising deficits and debt. Now more than ever, we need new leadership in the White House – and I know that Washington answers to the people, not the other way around.
Americans are frustrated with politicians ignoring their concerns. I'm listening to them, and running to restore our nation's values, restore our economy and fix the widespread problems infecting our nation's capital. As president, I'll make Washington responsive to us, the hardworking, taxpaying citizens of the greatest country on the face of the Earth."
For More Information:

J.D. Gordon, Vice President of Campaign Communications

Friends of Herman Cain, Inc.
Herman Cain, Statement by Herman Cain - Obama's Failed Leadership Causes Lower than Expected GDP Online by Gerhard Peters and John T. Woolley, The American Presidency Project https://www.presidency.ucsb.edu/node/298767