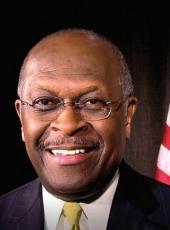 Statement by Herman Cain - Inside the Presidential Debate: A Missed Opportunity for the Voters
First, let's clarify some of the media noise about my campaign and my intentions.
I am running for president, seeking the Republican nomination. I finished 5th in the Iowa straw-poll last Saturday ahead of six other candidates. The candidates who finished ahead of me spent millions on TV and radio advertising, and we spent $0.
We have no debt beyond travel and other expenses, which we settle within 30 days after the end of the month. We are raising money at a rate ahead of expenses. We are running the campaign like a business. What a novel idea, and it's working!
With a national name ID of just 46 percent, I have no intentions of dropping out of the race. All of those predictions of the demise of my campaign are all self folly.
Now, last week all media eyes were on Iowa with the latest presidential debate and the Iowa straw poll. Both events are barometers of knowledge of the issues and their respective solutions, presentation, communication skills and how well a candidate can get his supporters to turn out for events. But neither event is a predictor of who will ultimately win the Republican Party's nomination.
On most of the really important issues, the other candidates and I are not that far apart. We all generally agree on not raising taxes, reducing federal spending and the size of the federal government, and that the current administration has the nation headed in the wrong direction.
The differences in how we would each change that direction is what the public wants to know. But that was not easily apparent due to the way the questions were structured, and the disproportionate amount of time each candidate had on camera in front of a national Fox News audience. Most of the questions were directed at the politicians about what they had done, or not done, or said, or not said in the past to put them on the defensive – or to them against one another to spice up the exchange.
The fiery exchange set up between Representative Bachmann and Governor Pawlenty did not achieve a substantive outcome for the viewers. Both candidates were simply trying to hold their ground against each other over differences they had back in their home state of Minnesota. It was counter-productive.
During the break following former Speaker Newt Gingrich's challenge to Chris Wallace about gotcha questions, I thanked him for doing so because gotcha questions were also counter-productive. Newt's long political career gave him more inherent authority to do that without being perceived as a whiner.
And then there were the three questions from Chris Wallace to me, which I was suppose to answer in one minute, which was the time we were allowed to give a response – or we get that annoying bell indicating that we have gone on too long. During the following break, I pointed out to Chris that answering three questions in a minute was not practical. He vaguely agreed.
But I did manage to salvage part of that packed minute to point out my four-part solution to the immigration problem: Secure the borderfor real, enforce the laws that already exist, empower the states to enforce those laws, and promote the current legal path to citizenship. It's called legal immigration.
As the lone businessman problem-solver, I had my hands full up against eight politicians in a tightly structured format. I was actually only on air for about 7.5 minutes of the two hour program, against the eight politicians who were all on camera longer except for one. Although Mitt Romney was a businessman early in his career, his tenure as a governor, as a previous presidential contender, and his on-going defense of RomneyCare makes him more of a politician.
One of the most rewarding moments for me was when I had the opportunity to distinguish myself as the candidate most focused on economic growth and jobs. I took advantage of two opportunities to give some specifics about my previously released economic vision for America (Commentaries on June 27, July 4 and July 11, 2011). Feedback from various sources suggested that the response connected with the audience.
Another enjoyable moment was when I responded to a question about being serious about securing the border with a moat with alligators and a barbed wire fence. Spontaneously, I simply said, "America needs to learn how to take a joke."
Upon reflection, the American people do have much more of a sense of humor than a lot of media people, because people at rallies and town hall meetings get the joke. They laugh! Media people want to know if I'm serious. That's a joke!
Although former Gov. Pawlenty has announced that he is ending his race after last Saturday's Iowa straw poll, he was one of the most genuinely nice opponents in the race. I wish him well in wherever his future takes him.
Whereas the debate gave some people a chance to learn about some of the candidate's ideas for solving problems, different people have different ideas about who won. So pick your favorite candidate and declare them the winner.
But clearly, the American people lost an opportunity to learn more than they did.
Herman Cain, Statement by Herman Cain - Inside the Presidential Debate: A Missed Opportunity for the Voters Online by Gerhard Peters and John T. Woolley, The American Presidency Project https://www.presidency.ucsb.edu/node/297648