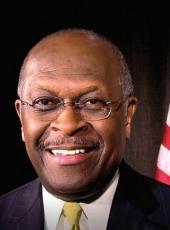 Statement by Herman Cain - Cain Responds to Abysmal Job Report
(Stockbridge, GA)- Republican presidential candidate Herman Cain today responded to the release of last month's job report, saying:
"This is demonstrably and empirically the worst economic 'recovery' in American history.
The Labor Department reports indicating that the economy generated only 18,000 net jobs in June is absolutely unacceptable. The unemployment rate has ticked up to 9.2 percent. These figures do not even include those who have simply given up on finding work or are underemployed, scraping to get by.
What's worse, businesses added the fewest jobs in more than a year. According to President Obama's own former economic adviser, Austan Goolsbee, the private sector must lead this recovery. I agree with Mr. Goolsbee, but wonder why if the Obama Administration acknowledges this economic truth, they still fail to enact business-friendly policies that would get America's job creators hiring again.
The government doesn't create jobs. Business creates jobs. And it's time to get America working again."
Cain has held several executive roles in the private sector: as a business analyst for Coca-Cola; as Vice President of the Pillsbury Company, leading the turnaround of 450 Burger King restaurants; as Chairman and CEO of Godfather's Pizza, taking the company from the brink of bankruptcy, returning it to profitability and leading his management team in a buyout in just 14 months; and as the Chairman, President and CEO of the National Restaurant Association, leading the nation's single largest private industry. He has served on the boards of directors of several major American and multinational corporations, including Whirlpool, Nabisco, SuperValu, AGCO, Hallmark Cards, Reader's Digest and Aquila. Cain's professional record as a job creator and "turnaround artist" led his peers to elect him the Chairman of the Federal Reserve Bank of Kansas City, as well as a member of the late Secretary Jack Kemp's "Economic Growth and Tax Reform Commission."
Herman Cain, Statement by Herman Cain - Cain Responds to Abysmal Job Report Online by Gerhard Peters and John T. Woolley, The American Presidency Project https://www.presidency.ucsb.edu/node/298708