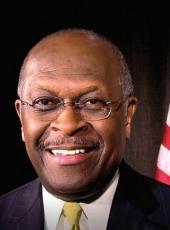 Statement by Herman Cain - Another Speech, Another Zero for Obama
Last week, the Labor Department reported that no new jobs were created in the month of August – something that has not occurred for more than 60 years. Secretary of Labor Hilda Solis said on CNBC, "I believe we have done everything we can, and I know that right now there is lot of concern with what's happening in Congress, and we have to get beyond that."
I don't believe you have done everything, Madam Secretary.
You could start with a basic understanding that businesses create jobs, and that more government spending on government projects is not the answer. The American people are not going to get past what's happening in Congress, because way too few of the right things are happening in Congress.
The Minority Leader in the House, Nancy Pelosi, issued a statement blaming the zero jobs report on the uncertainty created by the Republicans from the debt ceiling debate, and the Republicans' repeated blockade of the Democrats' plans.
What plans?
That's code for more spending and debt, which have not worked. The Republicans should block proposals for more spending and debt.
Now, President Obama wants to address a joint session of Congress to discuss his plan for jobs. If his Labor Secretary has given us a clue from her statement, then we will not hear anything new – just more spending proposals repackaged in different rhetoric. If he listens to his party's Minority Leader in the House of Representatives, then he will once again crank up the rhetoric of blaming the Republicans, and throw at least a few political jabs toward former President Bush.
The president has raised expectations by wanting to deliver his jobs speech before a joint session of Congress, but now the administration is trying to lower those expectations. This suggests, once again, that there are no new workable ideas.
Even if the president could pull an economic rabbit out of a hat, it's not likely to change much between now and the November 2012 elections. This is because, after a long list of failed programs, excessive federal spending, unpopular legislation, regulatory abuse and now zero job growth, there are not enough rabbits to mitigate all of the uncertainties generated by this administration.
Unfortunately, this is not encouraging for the unemployed, the underemployed or those businesses that are "under water" and trying desperately to hang on.
Let's be perfectly clear! If I had been president during the last two years and seven months, the USA would not be facing the crises we are facing today. Our military is in harm's way, we are in a recession, the stock market is extremely volatile, our S&P credit rating has been downgraded and the rest of the world is rapidly losing confidence in our currency.
And this administration believes it has done all it can do.
The approach I would have used to keep us out of this mess is the same one I will use to get us out of this mess when elected president. Since the situation is worse now, it will take longer to completely recover, but my bold 9-9-9 economic growth plan would get us off to a fast start. (See www.hermancain.com for details)
The approach is three simple concepts – work on the right problems, surround yourself with the right people, and develop common-sense solutions that the people can understand and support. When the people understand something, they will demand it.
President Obama has failed on all three accounts.
Number one: Instead of working on the right problems, he has forced through legislation that he wants, rather than what the people want. This administration no longer understands what the American people want and need.
Number two: Instead of surrounding himself with the right people, he chose to work with economic advisers who not only provided him with a failed spending policy, but also abandoned ship when the policies started to fail.
Number three: Instead of creating common-sense solutions to put America back to work, he decided to legislate more, regulate more, tax more (sneak-a-taxes), spend more, and confuse more. Now he wants to do more of the same.
Mr. President, another speech with no new results is just another zero.
Herman Cain, Statement by Herman Cain - Another Speech, Another Zero for Obama Online by Gerhard Peters and John T. Woolley, The American Presidency Project https://www.presidency.ucsb.edu/node/298648