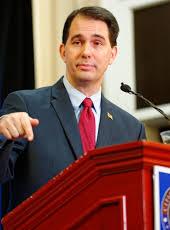 Statement by Governor Walker on the Iranian Nuclear Deal
After warning of President Obama's failure to lead on Iran, Governor Walker commented today on the P5+1's comprehensive agreement with Iran:
"President Obama's nuclear agreement with Iran will be remembered as one of America's worst diplomatic failures. The deal allows Tehran to dismantle U.S. and international sanctions without dismantling its illicit nuclear infrastructure—giving Iran's nuclear weapons capability an American stamp of approval. In crafting this agreement, President Obama has abandoned the bipartisan principles that have guided our nonproliferation policy and kept the world safe from nuclear danger for decades. Instead of making the world safer, this deal will likely lead to a nuclear arms race in the world's most dangerous region. What's worse, the deal rewards the world's leading state sponsor of terrorism with a massive financial windfall, which Iran will use to further threaten our interests and key allies, especially Israel.
"I call on all congressional leaders and presidential candidates, including Secretary Clinton, to repudiate this agreement. Iran's Supreme Leader should know that a future American president will not be bound by this diplomatic retreat. Undoing the damage caused by this deal won't be easy. But when the United States leads, and has a president who isn't eager to embrace Iran, the world will follow. In order to ensure the safety of America and our allies, the next president must restore bipartisan and international opposition to Iran's nuclear program while standing with our allies to roll back Iran's destructive influence across the Middle East."
Scott Walker, Statement by Governor Walker on the Iranian Nuclear Deal Online by Gerhard Peters and John T. Woolley, The American Presidency Project https://www.presidency.ucsb.edu/node/310403