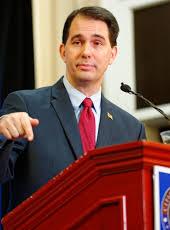 Statement by Governor Walker Responding to President Obama on Labor Day
Rochester, N.H. -- Following President Obama's attacks today on Gov. Walker's successful collective bargaining reforms, Walker responded with the following statement during a stop at the Pink Cadillac Diner on his motorcycle tour of all 10 New Hampshire counties:
"Well, in reaction to the President's comments, it's clear the President stands with the big government union bosses. We stand with the hard-working people. This is part of a tradition I guess. President Obama last year came to Milwaukee, Wisconsin to take a shot at us on Labor Day. Here he is just down the way from where we're at here in the Live Free or Die State, taking a shot at us as well. It's ironic that we're out here talking about freedom because what we did in Wisconsin was about taking the power away from the big government union bosses and putting the power back into the hands of the hard-working taxpayers in our state. That's pro-taxpayer. What we did was ultimately about giving people the freedom to choose whether or not they want to be in a labor union or not through right to work. That's pro-worker. And certainly, because of our reforms, we've been able through three budgets, the total savings at the end of our third budget was $4.7 billion -- that's lower income taxes and lower property taxes than before we started. That's good for working families. That's pro-family. That's a stark contrast.
"This is not unexpected. I think the president and his allies fear us more than anybody else in this race because they know we don't just talk about it, we get it done. We fight, we win, we actually get results. We've done it without compromising our conservative principles. It's why the President, not just last year on Labor Day, but it's why, when I signed right to work, the White House had a statement from the president himself, attacking a governor, which is unprecedented for an individual piece of legislation. That's because he and his allies stand firmly with the big government union bosses, and we stand firmly with the hard-working people of this country.
"We've shown we can take on those powers from Washington in my state, a blue state. If we can do it in a state like that, it's not too late to take on those powers in Washington and put the power back in the hands of the hard-working taxpayers."
Scott Walker, Statement by Governor Walker Responding to President Obama on Labor Day Online by Gerhard Peters and John T. Woolley, The American Presidency Project https://www.presidency.ucsb.edu/node/310428