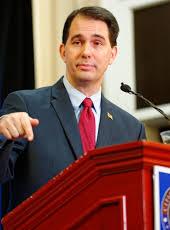 Statement by Governor Walker on Americans Being Held Hostage in Iran
Nashville, Tenn. -- Today, Governor Walker made the following statement on the anniversary of Jason Rezaian's imprisonment in Iran:
"One year ago today, the Iranian regime arrested Washington Post reporter Jason Rezaian, sent him to Tehran's notorious Evin prison, and brought bogus espionage charges against him. He has been held by Iran longer than any other foreign journalist.
"Rezaian isn't the only American held hostage by Iran right now. A former U.S. Marine, Amir Hekmati, and a pastor, Saeed Abedini, are still languishing in Iranian jails. Another American, Robert Levinson, has been missing in Iran for eight years. We recently had the opportunity to meet with the Hekmati family and hear about the torture Amir has suffered. I will continue to speak up about his case and the other hostages until all are released and returned to safety.
"The Iranians held my friend Kevin Hermening hostage after they stormed the U.S. embassy in 1979. The Iranians saw President Carter as weak, and they held Kevin for 444 days. He was finally released on day one of Ronald Reagan's presidency in part because the mullahs in Tehran knew they would be dealing with a strong American leader.
"Today, Iran's rulers see our sitting president as weak, much like they saw President Carter. Amid all of President Obama's dangerous concessions to Iran in the nuclear deal, he has also failed to get our fellow Americans back home to their families. Ensuring the safety of Americans is a president's number one priority, and that is why we must turn up the pressure on Iran's regime to release these innocent Americans. The Iranians won't release our fellow citizens until we have a commander-in-chief they fear and respect."
Scott Walker, Statement by Governor Walker on Americans Being Held Hostage in Iran Online by Gerhard Peters and John T. Woolley, The American Presidency Project https://www.presidency.ucsb.edu/node/310401