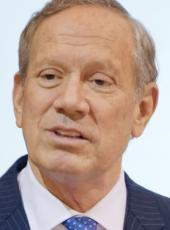 Statement by Governor Pataki on the Paris Attacks
In every way and manner the attacks of September 11, 2001 caught America and the world by surprise. Tonight's attacks in Paris, while a shock are sadly, tragically predictable. They are not the result of a video or in retaliation for some other perceived affront — they are a natural outgrowth of unchecked aggression by radical Islamic extremists.
The Obama-Clinton-Kerry axis of evasion, equivocation and error has left America and our allies around the world at the mercy of these cowards. Whether ISIS is ultimately directly responsible or not, radical Islam is not contained; it is a cancer that is metastasizing across Europe and today threatens our own shores.
The random, abject horror of Islamic terror has washed red upon our shores before and I'm running for President to ensure it never does again. For the past year I have repeatedly warned that America is more at risk of attack than anytime since 2001. Sadly that is clear to everyone today, except of course our President.
The days of September 11th have never left me. The senseless loss, the hell on earth, the inconsolable and unimaginable sense of loss. Hillary Clinton was there with me, but you wouldn't know it today.
ISIS claims "American blood is best." We know their plan — they intend to do here what they did in Paris.
We must take action.
The Clinton-Obama foreign policy is a disaster. ISIS, al Qaeda and their branches are recruiting, planning and plotting to kill us here — we must kill them there. We must put an immediate halt to granting asylum to Syrian refugees. We must stop the travel of Syrian refugees travelling to the United States from Europe. We must end sanctuary cities. We must end their recruitment on social media.
First, we must stand together as Americans and then we must unite with our allies who are resolved to bring the full force of the civilized world down on ISIS.
Tonight the Freedom Tower shines with ithe colors of America's oldest ally. As they stood with us, we stand with them. Our thoughts, our prayers and our hearts are with the people of France.
George Pataki, Statement by Governor Pataki on the Paris Attacks Online by Gerhard Peters and John T. Woolley, The American Presidency Project https://www.presidency.ucsb.edu/node/311955