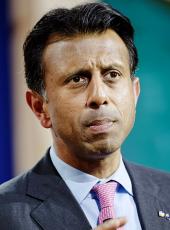 Statement by Governor Bobby Jindal: Change Course or the Greek Economic Collapse Will Happen Here
BATON ROUGE — Today, Governor Jindal released the following statement about Greece and its economy:
Governor Jindal said, "Every American should pay close attention to the economic collapse that is occurring in Greece. People's savings are wiped out, banks are shuttered, ATM's are out of money, and there is nowhere to turn.
"This is the American future if we continue going down the road that President Obama has us on, and that Hillary Clinton wants to continue and even accelerate.
"We never balance our budget, we never cut federal government spending, our federal government wastes money irresponsibly, the President has nearly doubled our debt to an unthinkable 18 trillion, our entitlement programs are on the way to bankruptcy, and yet we just created a new one in Obamacare.
"Greece will happen here if we do not change course. Anyone who disagrees with this is a 'math denier'.
"Greece is now coming to the pot of gold that awaits at the end of the socialist rainbow, and Hillary Clinton pledges to take America further down the road to socialism.
"We can win the future by shrinking the government economy and growing the American economy. Or, we can destroy our future by continuing on our present course. This is the choice the American people will have to make in November of 2016."
Bobby Jindal, Statement by Governor Bobby Jindal: Change Course or the Greek Economic Collapse Will Happen Here Online by Gerhard Peters and John T. Woolley, The American Presidency Project https://www.presidency.ucsb.edu/node/311910