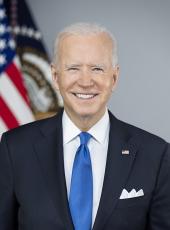 Statement from Vice President Biden on Today's Economic Report
President Trump's failure to take action this spring to get control of the coronavirus led to gutted businesses, closed schools and tens of millions of people out of work that could have been prevented. This failure plunged our economy into a deep recession, putting nearly unbearable strain on working people all over this country who are struggling to pay rent, to pay for their medicines and to put food on the table. Working people fighting to make ends meet in this economy don't need today's report to tell them what they already know, because they feel it everyday: Donald Trump still doesn't have a plan, and we still haven't recovered.
This report underscores three inescapable truths about Donald Trump's economy: we are in a deep hole and President Trump's failure to act has meant that Q3 growth wasn't nearly enough to get us out of; the recovery is slowing if not stalling; and the recovery that is happening is helping those at the top, but leaving tens of millions of working families and small businesses behind. And with no plan to convene Congress to get a deal done to get economic relief to those who badly need it and his White House admitting they have given up on trying to get the virus under control, President Trump still has no plan to get our country through this crisis and move us forward.
That's why President Trump is on track to be the first president since Herbert Hoover to leave office with fewer jobs than when he came into office. And, with today's report, we are still on track to have the worst economic downturn in more than 70 years.
The American people deserve a president who will lead us out of this crisis.
On top of 228,000 lost lives due to COVID-19, working people in this country are still hurting because President Trump failed to lead, failed to get this virus under control, and failed to tell the truth. I have called this a K-shaped recovery—because much of the growth we've seen has accumulated to those already well-off and has failed to reach those who need it the most. Yes, GDP rose last quarter, but visits to food banks haven't slowed, and poverty has grown. African Americans and Latinos still face double-digit unemployment rates. The added caregiving burden in the wake of Trump's failed pandemic response has forced many women to drop out of the labor force altogether.
Even with today's report, GDP still remains $6,000 per household below its pre-crisis level, payrolls are down by nearly 11 million workers, and 23 million people are claiming unemployment - including 750,000 new claims last week. Today's report is not a victory for these families. American families need meaningful help, not misleading hype. Only Trump would call an already stalling economy with historic levels of unemployment claims and small businesses closures the "best ever." Yet at this very moment, President Trump and his Administration are giving up on getting control of the virus. And, in doing so, they are giving up on our economy and the American people.
I will fight side-by-side with the American people to rein in the virus and provide needed economic relief. Both will be day one priorities in my administration, and an independent analysis from Moody's shows that my agenda will create seven million more jobs and lead to $1 trillion higher economic growth than President Trump's plan.
Success in a Biden-Harris Administration will not be measured just by the stock market or GDP growth, but by the extent to which growth is raising the pay, dignity, and economic security of our working families—especially those who have for far too long been left behind. That's why as president, I won't just bring us back to the way things were before President Trump. For too many, the old economy wasn't good enough for their family. In this recovery, I will bring everyone along—regardless of your race, your gender, your hometown, or your tax bracket. And together, we will build back better.
Joseph R. Biden, Statement from Vice President Biden on Today's Economic Report Online by Gerhard Peters and John T. Woolley, The American Presidency Project https://www.presidency.ucsb.edu/node/347029