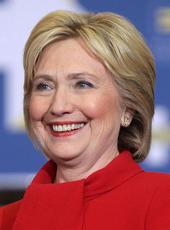 Statement from Hillary Clinton
"As the turmoil in Zimbabwe continues after a seriously tainted election process, President Mugabe is employing brutal tactics against dissenters in an attempt to retain power. In addition to raids on opposition party offices and the killing of opposition democracy activists by Mugabe supporters, there are increasing reports that the police are interrogating, arresting, and beating Anglican parishioners and preventing them from attending Church.
"I join with people of all faiths in the United States and around the globe in calling for an end to the religious persecution taking place in Zimbabwe. These offenses are an affront to everyone and, as we know, religious persecution anywhere is a call to action everywhere.
"Zimbabwe's families and communities teeter on the edge of starvation and economic distress while intimidation and violence toward people of faith is being carried out by the ruling party.
"This past Sunday while many participated in Holy Communion, a church service was raided and congregants had to run for safety instead of participating in their most holy sacrament. We, as a free nation, must join in prayer for the faithful of Zimbabwe. In April, the worldwide Anglican Communion called on everyone to pray for Zimbabwe's rescue 'from violence, the concealing and juggling of election results, deceit, oppression and corruption.'
"Let us all join in this call to prayer seeking an end to the persecution, for the church of Zimbabwe to remain faithful and strong for justice and truth, for an end to the drought that is creating a food crisis, for those suffering from the HIV/AIDS pandemic and their families and the clergy who are weary in their ministry. Let's work to lift up this nation during their time of distress.
"As First Lady and Senator, I have spoken out against religious persecution around the world, from China to Afghanistan to Ukraine. And in places such as Northern Ireland, I have worked on behalf of religious reconciliation to help foster peace. As President, I will continue to speak out for religious freedom and work towards religious tolerance and peace around the world."
Hillary Clinton, Statement from Hillary Clinton Online by Gerhard Peters and John T. Woolley, The American Presidency Project https://www.presidency.ucsb.edu/node/291118