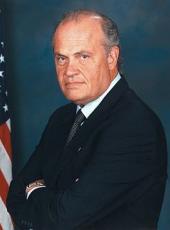 Statement by Fred Thompson: No Ahmadinejad Entry Into U.S. - Proposes Economic Sanctions to Freeze Iran's Assets
Dallas, TX - Senator Fred Thompson issued the following statement today from Dallas, Texas regarding Iranian President Mahmoud Ahmadinejad's upcoming visit to the United States and further called upon the UN Security Council to impose economic sanctions on the terrorist state:
"Mahmoud Ahmadinejad, president of the world's premier terrorist state, is speaking before the United Nations next week. He has also asked to visit Ground Zero. If I were President of the United States none of this would have been an issue--I wouldn't have let him into the country in the first place.
"It's time for the world to finally send a stern message to Iran. Ahmadinejad has called for the destruction of Israel, is supporting terrorist groups throughout the Middle East, and is responsible for supplying weapons to extremists who are killing US forces in Iraq and Afghanistan. And with Iran's ongoing pursuit of nuclear weapons and development of long-range missiles, that country is a threat not only to the region and our allies, but to the entire free world. It's time for the United Nations to take more serious action against this terror regime.
"The Security Council needs to begin placing comprehensive, multilateral sanctions on Iran's economy, to include banning foreign investment, stopping export credits to companies doing business there, and prohibiting any business dealings with Iran's Revolutionary Guard. Iranian banks should be denied access to international banking and financial institutions, and World Bank loans should be suspended. All arms sales to Iran need to be halted. And travel by Iranian officials should be stopped and their assets frozen. Cutting off Iranian access to refined gas imports will certainly get Tehran's attention and cause them to reconsider their priorities. If the UN can't reach agreement on these measures due to continued Russian, Chinese or others' intransigence, then we need to work directly with our allies and go around the UN roadblock.
"The international community has been negotiating with Iran for more than four years to no avail in seeking to halt the mullahs' nuclear program. I believe strongly in diplomacy, but it has its limits, especially when the other side is made up of extremists. If we don't get serious and act now--before they build atomic weapons--the stakes will be even higher, and our hand much weaker. The United States and its allies cannot afford to let that happen. As president, I certainly will not."
Fred Thompson, Statement by Fred Thompson: No Ahmadinejad Entry Into U.S. - Proposes Economic Sanctions to Freeze Iran's Assets Online by Gerhard Peters and John T. Woolley, The American Presidency Project https://www.presidency.ucsb.edu/node/295146