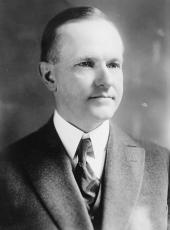 Statement Following the Presidential Election
It is with a great deal of gratitude that I have seen by the incoming returns the extent of the victory and have realized its source. While I rejoice in its great proportions, I rejoice even more in the nature of the support we have received. It means the end of a period which has seemed to substitute words for things, and the beginning of a period of real patriotism and true national honor.
It means a return to the Constitution, an end to extravagance, and a Government by the people at home. Abroad it means the end of all ambiguous and visionary schemes and the beginning of a recognition of the real and true world relationship, whether based on the proposed League or some new agreement is immaterial by which there may be conference among nations, and development of law, which are the sole avenues to an abiding peace.
This has been the Republican policy, voiced by its record, its platform, its candidates and now indorsed by the people. I believe there will be a return to industrial progress. The great confidence in the leadership exhibited by Senator Harding, which has been steadily increasing, has been shown to be warranted by the result of the election and will be further justified by his administration. I cannot commend too much his conduct in this campaign. It has been magnificent.
I am deeply appreciative of the vote of Massachusetts. It is needless to say I offer my thanks to all who have contributed to the great result, the national, the State, the local committees of men and women. To the women of the nation is due a new debt of gratitude. And finally, I want to express my appreciation of the great courtesy the press of both parties has extended to me. The issue was above parties. The victory cannot be designated by any other word than "American."
Source: "Coolidge, Happy, Lauds Harding," New York Times, November 3, 1920, p. 4.
Note: The Vice President-elect's wife, Grace Coolidge, also issued the following statement:
"This has been my first experience in taking part in elections. I am greatly gratified at the result. I know Senator Harding is a great campaigner because he is a man of such fine, true character. That stands out in all his speeches. I am sure he will make a great President. But I am equally sure from the reports of the people who have had the good fortune to visit Marion that the impression Mrs. Harding has made on her guests has spread all over the country and made the people certain that they wanted her to be the first lady of the land.
The women of Massachusetts under the leadership of Mrs. Bird gave our cause wonderful support. I am very thankful for the result to all who have helped—to our women especially."
Calvin Coolidge, Statement Following the Presidential Election Online by Gerhard Peters and John T. Woolley, The American Presidency Project https://www.presidency.ucsb.edu/node/345986