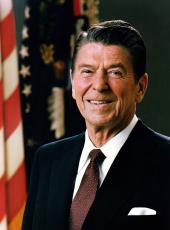 Statement on Establishment of the President's Commission on Industrial Competitiveness
On June 28 I signed an Executive order establishing a Commission on Industrial Competitiveness. I charged the Commission with advising me and my administration on ways to strengthen the competitiveness of U.S. industry.
This nation's greatest competitive advantage in the past were ideas that helped America grow. We need to put the power of ideas to use again, for the good of our future. America needs her best minds to create technologies that will enhance America's economic leadership in the 1980's. To sustain high rates of real economic growth, we must continue to create new "miracles" of high technology—miracles both for innovation and for modernization of the major areas of our economy in manufacturing, agriculture, and services.
The Commission members I am appointing today are distinguished leaders from large and small businesses, from labor, and from academia. They are ideally suited to lead us in a national dialog—a discussion of the kinds of actions required by the public and private sectors to make U.S. industries more competitive in domestic and foreign markets. The Commission will be chaired by John A. Young, president of the Hewlett-Packard Co.
The Commission will focus its attention on government and private sector actions, specifically:
—Identifying the problems and opportunities for the private sector to transform new knowledge and innovations into commercial products, services, and manufacturing processes.
—Recommending policy changes at all levels of government to improve the private sector's ability to compete in the international marketplace and to maintain and create opportunities for American workers.
The Commission will report to me and work closely with the Department of Commerce, the Office of Policy Development, and the Office of Science and Technology Policy.
The increasingly rapid pace of technological advancement assures us that our economy will change constantly in the future. New developments in information processing, biology, and materials science are spawning sunrise industries. They are improving our quality of life and standard of living in ways few could have foreseen. These technologies are transforming all sectors of our economy and even our lifestyles. Not only can information processing capabilities improve the way farmers manage their livestock, provide the "brains" in a flexible manufacturing system, and keep track of the paper flow in an office; they will also change the way we live.
Now some believe that the Government should try to read these trends to determine which products, services, and industries have a place in our future and which do not. They would have government planners divert resources away from traditional industries and channel them into new fields. But the history of progress in America proves that millions of individuals making decisions in their own legitimate self-interest cannot be outperformed by any bureaucratic planners.
Government's legitimate role is not to dictate detailed plans or solutions to problems for particular companies or industries. No, government serves us best by protecting and maintaining the marketplace, by ensuring that the rules of free and fair trade, both at home and abroad, are properly observed, and by safeguarding the freedoms of individual participants.
In carrying out this role, the Government must maintain fiscal policies which encourage personal initiative, and monetary policies which ensure stable prices. The lasting, noninflationary growth we are now building will facilitate the movement of capital toward promising economic activities. Stable economic growth will provide markets for new products and employment opportunities for workers displaced by changes in the way things are produced.
By establishing this Commission, we reaffirm this administration's commitment to making sure that this government will be a help, not a stumbling block, as U.S. industries compete in domestic and international markets, opening up new opportunities for all Americans.
Ronald Reagan, Statement on Establishment of the President's Commission on Industrial Competitiveness Online by Gerhard Peters and John T. Woolley, The American Presidency Project https://www.presidency.ucsb.edu/node/262990