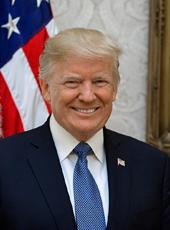 Statement by Donald J. Trump on Receiving Historic Endorsement From America's Border Patrol Agents
(WISCONSIN) March 30th, 2016 - Donald J. Trump released the following statement after receiving the formal endorsement of America's Border Patrol Agents nationwide through their official union, the National Border Patrol Council:
"I am deeply grateful for this extraordinary and historic endorsement from America's Border Patrol Agents, and especially honored that they would break with their past precedent of not endorsing in presidential primaries in order to endorse my candidacy. This endorsement represents a total rejection of the corrupt politicians who have allowed transnational gangs and cartels to terrorize American communities.
The National Border Patrol Council is the official body representing America's front-line Border Patrol Agents who sacrifice every day, under intolerable political restraints, to keep America safe. America's 16,500 border patrol agents represented by the NBPC are the first line of defense for our nation. The NBPC provides the vital outlet to learn the truth - not the political spin from bureaucrats - about what is really happening on our border. And the NBPC has been the one outlet these agents have to prevent their voice from being drowned out by big money special interests.
As President, I will work tirelessly with the NBPC and their rank-and-file agents to secure our border once and for all. I will ensure that every rank-and-file officer has the resources, tools and support they need to protect this nation and stop the influx of drugs, gangs and cartel violence. Together, we will save thousands of American lives, millions of American jobs, and billions of American tax dollars.
I am deeply privileged to have the official support of America's border patrol agents, and will never let them down.
This is our chance to make our country safe again, and ultimately, Make America Great Again."
Donald J. Trump, Statement by Donald J. Trump on Receiving Historic Endorsement From America's Border Patrol Agents Online by Gerhard Peters and John T. Woolley, The American Presidency Project https://www.presidency.ucsb.edu/node/317125