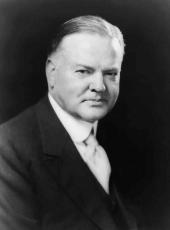 Statement on Disclosures of Propagandizing Against Naval Reduction.
THE PRESIDENT said:
"I have been much interested in the disclosures in respect to the relations of a naval expert who over a month ago filed a complaint in the New York courts against three important naval shipbuilding corporations for services described in the complaint, in which he acknowledges having received over $50,000 on account. This propagandist has, during the past few years, organized zealous support for increased armament and has been a severe critic of all efforts of our Government to secure international agreement for the reduction of naval arms, which include activities at the Geneva Conference, and opposition to the movement which I have initiated in the past 3 months. A part of this propaganda has been directed to create international distrust and hate.
"I cannot believe that the responsible directors of these shipbuilding corporations have been a party to these transactions as represented in this lawsuit, but their statement of the case is needed. It is due to the public, it is due to the Government, and it is due to the corporations themselves.
"In the meantime, I have directed the Attorney General to consider what action we can take. Unless the companies can show an entirely different situation from that which is purported in this suit, we are compelled to consider what measures can be proposed to free the country of such influences.
"Every American has the right to express his opinion and to engage in open propaganda if he wishes, but it is obviously against public interest for those who have financial interest in, or may be engaged in contracts for the construction of naval vessels to secretly attempt to influence public opinion or public officials by propaganda in favor of larger armaments and attempt to defeat the efforts of the Government in world limitation of such armaments or to employ persons for such purposes.
"I am making this statement publicly so that there can be no misapprehension of my determination that our present international negotiations shall not be interfered with from such sources and through such methods."
Note: William B. Shearer brought suit in the New York State Supreme Court against Bethlehem Shipbuilding Corporation, Newport News Shipbuilding and Dry Dock Company, and American Brown Boveri Electric Corporation. He charged that these firms did not adequately compensate him for his services as their representative, for a period of 3 years, at armament conferences in both the United States and Europe.
On September 10, 1929, the White House released a letter to the President from the Bethlehem Steel Corporation, dated September 9, as follows:
Sir:
In your public statement of September 7, 1929, referring to the suit of William B. Shearer against certain shipbuilding companies you say that you "cannot believe that the responsible directors of these shipbuilding corporations have been a party to these transactions as reported in this lawsuit but their statement of the case is [p.277] needed." Bethlehem Steel Corporation is addressing you this letter in response to that invitation.
To the best of our recollection Mr. Schwab and I were not conscious of the existence of William B. Shearer prior to December, 1927, when we were asked to comment on the rumor that American shipbuilding interests had maintained at Geneva during the Naval Disarmament Conference of the previous summer a propagandist in the person of one William B. Shearer. We first branded the rumor as false but upon its repetition we caused inquiries to be made of S. W. Wakeman, who was in charge of Bethlehem's eastern shipbuilding operations, with headquarters at our Fore River shipbuilding plant at Quincy, Mass.
We then learned for the first time that in the previous spring Mr. Wakeman had joined with other shipbuilding companies in the employment of Mr. Shearer as an observer at the Geneva Disarmament Conference for a fee of $25,000, of which Bethlehem was to pay a third. Mr. Wakeman assured us that his understanding was that Mr. Shearer was employed only as an observer to furnish information and that his activities as a propagandist in connection with the conference were solely on his own initiative and were in no way inspired or supported by the shipbuilding industry.
Mr. Schwab and I soon ascertained that Mr. Shearer was and had been for years an active propagandist regarding the naval policies of the United States. We felt that the employment of such a man as an observer was in conflict with the policy to which the Bethlehem interests have strictly adhered of refraining from participation in propaganda intended to influence the naval and military policies of the United States Government. I therefore directed Mr. Wakeman to arrange for the termination of Mr. Shearer's employment, which he promptly did, paying Bethlehem's share of the final payment of Mr. Shearer's compensation. This ended Bethlehem's relations with Mr. Shearer.
It was after this termination of his employment that Mr. Shearer advanced for the first time, I am informed, his claim against the shipbuilding companies for compensation in much larger amounts than he had already received.
We should add that we have also learned from Mr. Wakeman that in December, 1926, he joined with other shipbuilding companies in the employment of Mr. Shearer in connection with the movement of encouraging the development of an American Merchant Marine for a fee of $7,500, of which Bethlehem paid a third.
Mr. Shearer's claim in his pending suit against our Company and two other shipbuilding companies that he had been employed by us to any greater extent than as above stated or that he is entitled to compensation beyond the amounts already paid to him is entirely without foundation. Bethlehem has nothing to conceal regarding its share in the employment of [p.278] Mr. Shearer on the two occasions above mentioned and we shall be glad to furnish any further information on the subject you desire.
Very respectfully,
E.G. GRACE,
President
[Honorable Herbert C. Hoover, President of the United States of America]
Herbert Hoover, Statement on Disclosures of Propagandizing Against Naval Reduction. Online by Gerhard Peters and John T. Woolley, The American Presidency Project https://www.presidency.ucsb.edu/node/207951