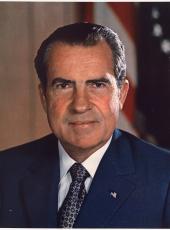 Statement on Departure From the Philippines.
IT HAS BEEN a great pleasure for me to visit again the Philippine Republic. For all you have done to make this visit such a pleasant and valuable experience, I express my sincere appreciation and say to you--with all the warmth which this word traditionally conveys in your language: Mabuhay.
I am reminded as I leave the Philippines that yours was a country and a people to which our late President Eisenhower felt particularly close. He lived here for 4 years in the late 1930's, and here his son grew into manhood. When he returned in 1960, President Eisenhower told your Congress that he felt he was "revisiting an old home." And so he was. And so it has been for so many Americans who have come to know and love these islands and their people. So it has been for me this week.
This visit has been important in many ways. It has enabled us to renew and extend our acquaintance with you, Mr. President, and with the members of your government. It has allowed us to consult with an allied government about the war in Vietnam. It has afforded us an occasion for discussing the future of Asia, especially after the Vietnam war is over.
I have expressed the conviction that the United States has the same wishes as the Philippine Republic concerning the future relationship between our two countries. You want the Philippines to be strong, self-reliant, and independent in every sense. So do we. You want the United States to be a good and loyal friend. That, too, is our desire.
I have also conveyed the firm belief that the United States has the same wishes you have concerning the future of Asia. We both want Asia to develop economically. We both understand--in the words of President Marcos--that the people of Asia must seek "Asian solutions to Asian problems." It is in that framework that my country can best contribute to Asia's peaceful development.
We have met at a time when the imagination of all mankind has been fired by the success of man's first landing on the moon. We are reminded by that event of the great capacity of the human spirit to overcome all obstacles and break all bartiers as it pursues the future. It is that same human spirit, applied in different circumstances, which is even now bringing economic and social progress in this part of the world. It is that same spirit which even now is hastening the day when the Pacific Ocean will truly be the peaceful place which its name suggests it should be--and which the people who live near it so earnestly want it to be.
Again, my thanks and good wishes. Mabuhay [greetings, good wishes].

Note: The statement was released at Manila.
Richard Nixon, Statement on Departure From the Philippines. Online by Gerhard Peters and John T. Woolley, The American Presidency Project https://www.presidency.ucsb.edu/node/239712