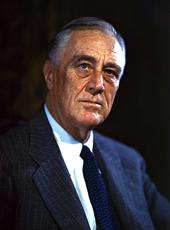 Statement on Columbus Day.
The voyage of Christopher Columbus and his diminutive fleet toward the unknown west was not only a prelude to a new historical era. For the brave navigator it was the culmination of years of bold speculation, careful preparation, and struggle against opponents who had belittled his great plan and thwarted its execution.
Expounding the strange doctrine that beyond the ocean stood solid, habitable earth, Columbus had first to make his views plausible to his doubting patrons and then to overcome the seemingly endless array of obstacles with which men of little minds barred the way to the fitting out of a fleet. Even when the three small ships were well away on their epoch-making course the crews mutinied and demanded that he turn back. Columbus, however, held to his course and on the morning of October 12, 1492, the welcome land was sighted.
The courage and the faith and the vision of the Genoese navigator glorify and enrich the drama of the early movement of European people to America. Columbus and his fellow voyagers were the harbingers of later mighty movements of people from Spain, from Columbus's native Italy and from every country in Europe. And out of the fusion of all these national strains was created the America to which the Old World contributed so magnificently.
This year when we contemplate the estate to which the world has been brought by destructive forces, with lawlessness and wanton power ravaging an older civilization, and with our own republic girding itself for the defense of its institutions, we can revitalize our faith and renew our courage by a recollection of the triumph of Columbus after a period of grievous trial.
The promise which Columbus's discovery gave to the world, of a new beginning in the march of human progress, has been in process of fulfillment for four centuries. Our task is now to make strong our conviction that in spite of setbacks that process will go on toward fulfillment.
Franklin D. Roosevelt, Statement on Columbus Day. Online by Gerhard Peters and John T. Woolley, The American Presidency Project https://www.presidency.ucsb.edu/node/209189