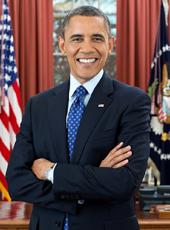 Statement of Barack Obama on Israel's 60th Independence Day
This week marks the 60th anniversary of the fulfillment of a dream -- the independence of the State of Israel. Throughout many centuries, Jews held fast to the hope of returning as free people to the land of their ancestors. Blessed with visionary leaders like Theodore Herzl and David Ben-Gurion, in the 20th century they began to take the practical steps necessary to build a modern state. Against all odds, and overcoming obstacles from international indifference, to hostile opposition in the region, to the murderous crimes of the Nazis, the leaders of the Zionist movement declared the establishment of the State of Israel in May 1948. In their moment of triumph, they were immediately plunged into a war for their new nation's very survival. Because of the courage and commitment of its people, Israel did survive. While threats to its existence have endured, Israelis have built their nation into a strong, vibrant democracy, with a prosperous economy, a rich cultural life, and a deep friendship with the United States that benefits both our peoples in so many ways. Even in hard times, Israelis have so much to be proud of. As the Jewish State continues to grow and prosper, the United States will always stand with Israel to ensure it can defend itself against threat of terrorism and violence, from as close as Gaza and as far as Tehran. We must never waver in our unshakeable commitment help Israel achieve its goal of true security through lasting peace with its neighbors.
On this happy occasion, I send congratulations and warm wishes to President Peres, Prime Minister Olmert, and the Israeli people, and I join with Jews and friends of Israel everywhere in celebrating Israel's 60th Independence Day.
Barack Obama, Statement of Barack Obama on Israel's 60th Independence Day Online by Gerhard Peters and John T. Woolley, The American Presidency Project https://www.presidency.ucsb.edu/node/291339