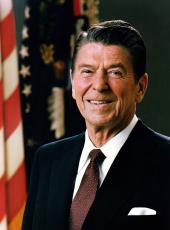 Statement by Assistant to the President for Press Relations Fitzwater on United States Policy Regarding the Accidental Attack on an Iranian Jetliner Over the Persian Gulf
The President has reviewed U.S. policy in the Persian Gulf, where our military forces are protecting vital interests of the free world. He has expressed his complete satisfaction with the policy and reiterated his belief that the actions of the U.S.S. Vincennes on July 3 in the case of the Iranian airliner were justifiable defensive actions. At the same time, he remains personally saddened at the tragic death of the innocent victims of this accident and has already expressed his deep regret to their families.
Prompted by the humanitarian traditions of our nation, the President has decided that the United States will offer compensation on an ex gratia basis to the families of the victims who died in the Iranian airliner incident. Details concerning amounts, timing, and other matters remain to be worked out. It should be clearly understood that payment will go to the families, not governments, and will be subject to the normal U.S. legal requirements, including, if necessary, appropriate action by Congress. In the case of Iran, arrangements will be made through appropriate third parties. This offer of ex gratia compensation is consistent with international practice and is a humanitarian effort to ease the hardship of the families. It is offered on a voluntary basis, not on the basis of any legal liability or obligation.
The responsibility for this tragic incident, and for the deaths of hundreds of thousands of other innocent victims as a result of the Iran-Iraq war, lies with those who refuse to end the conflict. A particularly heavy burden of responsibility rests with the Government of Iran, which has refused for almost a year to accept and implement Security Council Resolution 598 while it continues unprovoked attacks on innocent neutral shipping and crews in the international waters of the Gulf.
In fact, at the time of the Iran Air incident, U.S. forces were militarily engaged with Iranian forces as a result of the latter's unprovoked attacks upon neutral ships and a U.S. Navy helicopter. The urgent necessity to end this conflict is reinforced by the dangers it poses to neighboring countries and the deplorable precedent of the increasingly frequent use of chemical weapons by both sides, causing still more casualties.
Only an end to the war, an objective we desire, can halt the immense suffering in the region and put an end to innocent loss of life. Our goal is peace in the Gulf and on land. We urge Iran and Iraq to work with the Security Council for an urgent comprehensive settlement of the war pursuant to Resolution 598. Meanwhile, United States forces will continue their mission in the area, keenly aware of the risks involved and ready to face them.
Ronald Reagan, Statement by Assistant to the President for Press Relations Fitzwater on United States Policy Regarding the Accidental Attack on an Iranian Jetliner Over the Persian Gulf Online by Gerhard Peters and John T. Woolley, The American Presidency Project https://www.presidency.ucsb.edu/node/253982