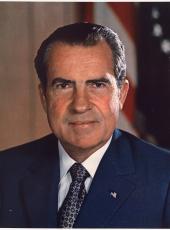 Statement on Appointing Frank Borman as Special Representative on Prisoners of War.
NO GOAL is more important to my administration than securing the humane treatment and earliest possible release of all Americans held by the enemy forces in Southeast Asia. To further that cause, I am today appointing Frank Borman as my Special Representative on Prisoners of War.
Colonel Borman recently retired from the United States Air Force where he had a most distinguished career culminated by 8 years in our space program. He commanded Apollo 8 on our first manned lunar orbit.
In making this announcement I wish to emphasize again nay conviction that the treatment of prisoners of war should be kept separate from the political and military issues of the Vietnam conflict--or any conflict. This is a question of civilized standards and basic humanity, as well as a matter of solemn legal obligations stated in the Geneva Convention of 1949, by which both sides in this conflict are bound. There should be no disagreement on humane treatment for prisoners of war.
For our part, we are ready to proceed at once to arrange for the release of such prisoners. We believe that negotiations toward this end should be pursued in the Paris talks as well as through other avenues. The fact that our previous efforts have brought no progress should not prevent us from persisting.
Colonel Borman, who has already met with the responsible authorities here in Washington, will undertake his efforts immediately. In a special mission during which he will be on leave of absence from his executive position with Eastern Air Lines, he will visit countries around the world and seek the help of third parties. He will also visit Paris for discussions with Ambassadors Bruce and Habib. Some of his actions will, of course, be private and unpublicized, in the hope that this will enhance the possibilities of success.
The United States has no desire to make a political issue of prisoners of war. What we seek is humane treatment for our men, and their early release. I am deeply grateful to Frank Borman for accepting the key role in this most important endeavor.
Note: On the same day, the White released the transcript of a news conference Frank Borman on his appointment.
On September 2, 1970, the White House released the transcript of a news briefing by Borman on his return from a visit to 12 countries to discuss exchange of U.S. prisoners of war in Vietnam.
Richard Nixon, Statement on Appointing Frank Borman as Special Representative on Prisoners of War. Online by Gerhard Peters and John T. Woolley, The American Presidency Project https://www.presidency.ucsb.edu/node/240266