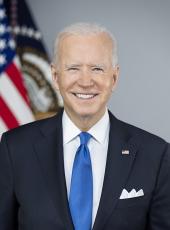 Statement of Administration Policy: Senate Substitute Amendment to H.R. 3684 - Infrastructure Investment and Jobs Act
STATEMENT OF ADMINISTRATION POLICY
(Senate)
(Sen. Sinema, D-AZ, and Sen. Portman, R-OH, and eight cosponsors)
The Administration supports Senate passage of the bipartisan amendment in the nature of a substitute to H.R. 3684, the Infrastructure Investment and Jobs Act. This legislation represents the most significant long-term investment in the United States' infrastructure and competitiveness in nearly a century. This legislation would make life better for Americans across the country, create a generation of good-paying union jobs, grow our economy, invest in communities that have too often been left behind, and better position the United States to compete globally and win in the 21st century.
The United States is the wealthiest country in the world, yet the World Economic Forum found that it ranks 13th when it comes to the overall quality of our infrastructure. After decades of underinvestment, the country's roads, bridges, and water systems are crumbling, and our electric grid is vulnerable to catastrophic outages. Too many families lack access to affordable, high-speed internet, clean drinking water, and public transportation. In the United States, the transportation sector is the largest contributor to greenhouse gas emissions and is also one of the sectors most vulnerable to the impacts of climate change. And, too often, past infrastructure investments have disproportionately and negatively impacted low-income neighborhoods and communities of color. It has never been more important for us to invest in strengthening our infrastructure and competitiveness, and do so in a way that creates the good-paying union jobs of the future, addresses long-standing racial and economic injustice, and helps to fight the climate crisis.
The historic Infrastructure Investment and Jobs Act would make an array of transformational investments in our country's infrastructure. It would support modernization and expansion of rail networks across the country and make the largest Federal investment in public transit in history. The legislation would provide resources to repair and rebuild our roads and bridges with a focus on climate change mitigation, resilience, equity, and safety for all users, including cyclists and pedestrians. It would also make critical investments in ports and airports to modernize facilities and reduce bottlenecks. In addition, the Infrastructure Investment and Jobs Act would begin to eliminate the Nation's lead service lines and pipes, delivering clean drinking water to up to ten million American families and more than 400,000 schools and child care facilities that currently do not have it, including in Tribal nations and disadvantaged communities. And, recognizing that broadband access and digital inclusion are critical for Americans to fully participate in modern society, the Infrastructure Investment and Jobs Act would help connect every American to reliable high-speed internet, building on the billions of dollars for broadband deployment in the American Rescue Plan Act of 2021. It would also help lower prices for internet service and help close the digital divide, so that more Americans can afford internet access.
The Infrastructure Investment and Jobs Act is also a critical down payment to help address the climate emergency. It would support the development of a network of electric vehicle chargers along highways and in rural and disadvantaged communities and electrify thousands of school and transit buses across the country. In addition, the legislation would provide investments to upgrade our power infrastructure, including by building thousands of miles of new, resilient transmission lines to facilitate the expansion of renewable energy. It would also make the largest investment in addressing legacy pollution in American history.
Finally, the legislation would make our infrastructure more resilient against the impacts of climate change, cyber-attacks, and extreme weather events, including by making critical resources available to state, local, tribal, and territorial communities to prevent, prepare for, respond to, and recover from natural disasters and cybersecurity incidents.
The Administration looks forward to working with the Congress on this legislation, which represents a major step in achieving the President's Build Back Better agenda.
Joseph R. Biden, Statement of Administration Policy: Senate Substitute Amendment to H.R. 3684 - Infrastructure Investment and Jobs Act Online by Gerhard Peters and John T. Woolley, The American Presidency Project https://www.presidency.ucsb.edu/node/353906