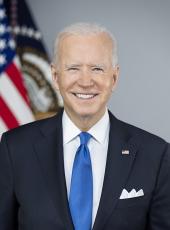 Statement of Administration Policy: Senate Amendment to H.R. 2617 - Consolidated Appropriations Act, 2023
STATEMENT OF ADMINISTRATION POLICY
(Senate)
(Sen. Leahy, D - VT)
The Administration strongly urges swift passage of the Senate amendment to H.R. 2617, making appropriations for fiscal year 2023, and for other purposes. This bipartisan legislation demonstrates once more that both parties can come together to deliver for the American people and make progress on critical priorities for the Nation. The bill advances cutting-edge research on cancer and other diseases, makes communities safer, delivers for America's veterans, supports the Ukrainian people, helps communities recovering from devastating natural disasters, invests in child care and education, and more.
The Senate amendment to H.R. 2617 includes $44.9 billion in humanitarian, security, and economic assistance for Ukraine and neighboring countries to support the people of Ukraine as they defend their sovereignty and stand resolute in the face of Russia's brutal war. These resources would mean additional defense equipment for Ukraine and lifesaving humanitarian assistance for the Ukrainian people. The Administration appreciates the continued bipartisan support for these resources to counter Putin's war. The bill also includes $27 billion in disaster funding to help communities across the Nation recover from disasters and extreme weather events.
The Administration also greatly appreciates the increased funding provided to the Advanced Research Projects Agency for Health, a bold initiative to help drive transformational innovation in health research and speed application and implementation of health breakthroughs. In addition, the Administration strongly supports the inclusion of advance appropriations for the Indian Health Service (IHS), which would ensure a more predictable funding stream for IHS and improve health outcomes across Indian Country.
The Senate amendment to H.R. 2617 also includes important investments that advance a range of other key national priorities. The legislation would make education and housing more affordable for American families, support law enforcement, provide veterans world-class healthcare, invest in child care, prioritize mental health and substance use treatment, tackle the climate crisis, address gender-based violence, and advance American leadership abroad. The bill also strengthens Medicaid coverage and nutrition assistance for children and ensures greater health care stability for citizens in Puerto Rico. The bill also includes the Electoral Count Reform Act, a vital piece of legislation that improves the integrity of the process of appointing Presidential electors and of tallying those electors' votes.
The Administration urges the Congress to send this critical legislation to the President's desk for signature without delay.
Joseph R. Biden, Statement of Administration Policy: Senate Amendment to H.R. 2617 - Consolidated Appropriations Act, 2023 Online by Gerhard Peters and John T. Woolley, The American Presidency Project https://www.presidency.ucsb.edu/node/359222