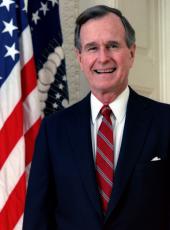 Statement of Administration Policy: S. 578 - Department of Defense Desert Storm Supplemental Authorization and Personnel Benefits Act
STATEMENT OF ADMINISTRATION POLICY
(Senate)
(Nunn (D) GA)
The Administration has been actively involved in the development of a bipartisan package of benefits for activated reservists and active duty personnel now serving in America's armed forces. The bipartisan agreement embodied in the Mitchell-Dole amendment would authorize appropriations of roughly $500 million over 5 years to increase carefully selected benefits for American servicemen and women on a basis that is consistent with the Budget Enforcement Act.
If the Mitchell-Dole amendment is adopted, the Administration would support enactment of S. 578 — provided that it is not subsequently modified in a way that is unacceptable. This agreement is not limited to the authorization language contained in S. 578. The Administration is committed to working with the Appropriations Committees to fund the implementation of the bipartisan agreement in a manner consistent with the Budget Enforcement Act.
The major provisions contained in the Mitchell-Dole amendment are as follows:
Hostile fire of imminent danger pay will be increased retroactively. As of August 2, 1990, such pay will increase from $,110 per month to $150 per month. The total cost of this provision is approximately $173 million over 5 years.


All soldiers killed in the line of duty between August 2, 1990 and March 31, 1991 who are covered by Servicemen's Group Life Insurance (SGLI) will receive a death gratuity equal to their coverage up to $50,000. The families of approximately 500 fallen servicemen and women will benefit from this provision at a total cost of roughly $25 million.


Presently, survivors of military members who die while on active duty receive payment for unused leave up to 60 days. The 60 day limitation will be lifted for members who have died during the Persian Gulf War, and the survivors will receive payment for all unused leave. Cost is less than $1 million.


In the past, veterans who served during a period of conflict were eligible for veterans pensions if, unrelated to service, they were totally disabled and indigent. That benefit will be extended to those who served in the armed forces during the Persian Gulf conflict. The five year cost for the provision could be as much as $7 million.


Readjustment counseling will be offered through Veterans Administration's Veterans Centers to veterans of the Persian Gulf conflict, Grenada and Panama. Five years costs are approximately $5 million.


Additionally, the Dire Emergency Supplemental now working its way through Congress contains $12 million, supported by the Administration, to increase Veterans Affairs Department staff for the purpose of serving returning veterans by explaining their benefits to them, and ensuring the benefits are delivered.


The package also contains a number of other benefits for those serving during the Persian Gulf conflict. For example, provisions would:
— Defer the payments on federal guaranteed student loans;

— Exempt MIA's from $10,000 annual cap on the amount that can be contributed to the Department of Defense saving plan;

— Provide care for veterans who develop active psychosis within two years of discharge;

— Extend, by two years, the filing date for burial and funeral benefits;

— Increase G.I. Bill benefits for reservists in a pro-rated manner, based on their active duty service;

— Provide reservists who do not have health care insurance when discharged with one month transitional coverage from the Federal government.
George Bush, Statement of Administration Policy: S. 578 - Department of Defense Desert Storm Supplemental Authorization and Personnel Benefits Act Online by Gerhard Peters and John T. Woolley, The American Presidency Project https://www.presidency.ucsb.edu/node/330624