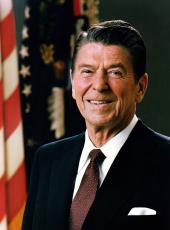 Statement of Administration Policy: S. 2295 - Department of Defense Reorganization Act of 1986
STATEMENT OF ADMINISTRATION POLICY
(Senate)
(Sens. Goldwater (R) Arizona and Nunn (D) Georgia)
The Administration supports Senate passage of S. 2295 provided that an amendment is adopted to delete the requirement that the term of the Chairman of the Joint Chiefs of Staff expires no later than six months after the accession of a new President. (Section 152(a)(2)). This provision could have the effect of politicizing the military establishment.
The Administration also supports adoption of amendments to:

— modify or delete sections that limit the Secretary of Defense's authority to manage personnel, procedures and structure of the Department of Defense (Sections 125, 164, 191(d)(2), 601, 3031(b)(4), 5031(b)(3 and 4), 5201(b)(3 and 4), and 8031(b)(3);

— delete the provisions requiring selected civilian and military staff reductions and imposing additional permanent ceilings on particular headquarters staffs because they would reduce needed management flexibility (Sections 118) (Defense Agencies), 154(f), 3014(d), 3031(d)(1 and 2), 5014(d), 5031(d)(1 and 2), 8014(d), 8031(d)(1 and 2), and 501 (Mgt. Hqs). The Administration will reduce headquarters staffing based on experience with the reorganization but believes specifying staff reductions in the bill is premature; and

— clarify sections 153(d) and 743 to ensure that the rank given to the Vice-Chairman of the Joint Chiefs of Staff will not draw into question the authority of the President and the Secretary to determine who will serve as Acting Chairman in the Chairman's absence.
The Administration is continuing its review of S. 2295 and may seek additional technical and clarifying changes as the Congress further considers this legislation.
Ronald Reagan, Statement of Administration Policy: S. 2295 - Department of Defense Reorganization Act of 1986 Online by Gerhard Peters and John T. Woolley, The American Presidency Project https://www.presidency.ucsb.edu/node/327433