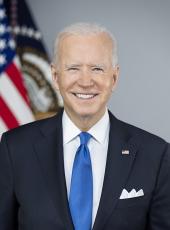 Statement of Administration Policy: H.J. Res. 100 - To Provide for a Resolution with Respect to the Unresolved Disputes Between Certain Railroads Represented by the National Carriers' Conference Committee of the National Railway Labor Conference and Certain of their Employees
STATEMENT OF ADMINISTRATION POLICY
(House)
(Rep. Donald Payne, D-NJ)
The Administration strongly supports House passage of H.J. Res. 100 to avert a national rail shutdown by implementing the most recent tentative agreements reached by labor and management negotiators.
A shutdown would cripple the American economy. It would harm American families, including our small business owners, farmers, and ranchers. The most immediate impacts would be felt by communities that rely on rail-carried chlorine and could lose access to clean drinking water, and farmers and ranchers who would not be able to feed their livestock should grain hopper trains stop arriving. A rail shutdown would quickly impact the ability of electric utilities to supply their customers and refineries to produce gasoline and diesel fuel. Some food stuffs would be in short supply, and farmers would struggle to get products to processors or export markets. In just the first two weeks alone, critical industries would cease operations, putting as many as 765,000 Americans - many union members themselves - out of work.
H.J. Res. 100 will implement the most recent tentative agreements reached by labor and management negotiators. Those tentative agreements, which include side letters and carrier-specific agreements, have been adopted by eight of the twelve affected unions and will provide improved health care benefits and a historic 24 percent pay raise for rail workers. The agreements also provide operating craft workers the opportunity to take some unscheduled leave for medical needs without being subject to penalties.
To be clear, it is the policy of the United States to encourage collective bargaining, and the Administration is reluctant to override union ratification procedures and the views of those union members who voted against the agreement. But in this case - where the societal and economic impacts of a shutdown would hurt millions of other working people and families - Congress must use its powers to resolve this impasse.
The Administration urges the House to pass H.J. Res. 100 without delay and looks forward to working swiftly with Congress on this important legislation.
Joseph R. Biden, Statement of Administration Policy: H.J. Res. 100 - To Provide for a Resolution with Respect to the Unresolved Disputes Between Certain Railroads Represented by the National Carriers' Conference Committee of the National Railway Labor Conference and Certain of their Employees Online by Gerhard Peters and John T. Woolley, The American Presidency Project https://www.presidency.ucsb.edu/node/359220