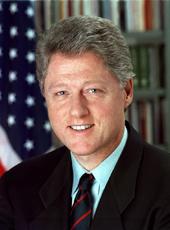 Statement on Action on Title III of the Cuban Liberty and Democratic Solidarity (LIBERTAD) Act of 1996
Today I am notifying the Congress of my decision to suspend for an additional 6 months the provision of the Cuban Liberty and Democratic Solidarity Act (LIBERTAD Act) allowing U.S. nationals to file suit against foreign firms trafficking in confiscated properties in Cuba. I have made this decision because of my strong commitment to implementing the Act in a way that best advances U.S. national interests and hastens a peaceful transition to democracy in Cuba.
In January 1997 I said that I expected to continue suspending this provision of the Act so long as our friends and allies continue their stepped-up efforts to promote a democratic transition in Cuba. I made this decision to take advantage of the growing realization throughout the world, in Europe and Latin America especially, that Cuba must change. We and our allies agree on the importance of promoting democracy, human rights, and fundamental freedoms in Cuba, and over the past 2 years we have worked together to support concrete measures that promote peaceful change.
Events in the past 6 months reaffirm that international cooperation for Cuban democracy is increasing. The January visit of His Holiness John Paul II inspired the Cuban people and gave encouragement to the Cuban Catholic Church and Cuban advocates for democratic change. The Pope gave hope to the Cuban people when he called for greater freedom and respect for individual rights.
Building on the Pope's important visit, European Union (EU) member states have reiterated their commitment to democratic transition in Cuba and, in June, as a group reaffirmed their Common Position on Cuba, committing them to take concrete steps toward that end. The EU has continued to urge Cuba to release imprisoned dissidents and stop harassing people who seek peaceful democratic change. The EU Working Group on Human Rights, formed last year among embassies in Havana, has met with Cuban dissidents. These are positive steps, and we encourage the EU to be even more active in their efforts.
On May 18, we and our EU allies reached the Understanding with Respect to Disciplines on Expropriated Property, a major advance in our efforts to protect property rights worldwide, including in Cuba. By discouraging investment in illegally expropriated property, the Understanding sends a strong signal that Cuba must follow the rule of law and respect fundamental rights. Of particular importance, the EU nations expressly acknowledged that the Cuban Government's expropriation of property from U.S. citizens appears to have been contrary to international law. We will work with the Congress to bring this important U.S.-EU understanding into effect.
Nations of the Americas are also working for democracy in Cuba. In the last 6 months, the Presidents of Argentina, Brazil, El Salvador, and Nicaragua have restated calls for Cuba to begin a democratic transition. Brazil's Foreign Minister met with a leading dissident in Cuba and took the opportunity to voice strong support for human rights.
Government cooperation has been reinforced by the efforts of international nongovernmental organizations (NGO's), which have increased support for dissidents and helped focus attention on Cuban Government repression. The Dutch group Pax Christi has reported on political and religious repression. Amnesty International has maintained pressure on Cuba to release members of the Dissident Working Group who were arrested in July 1997, and issued a special report on new cases of imprisonment for political offenses. The international effort to promote "best business practices" in Cuba is also advancing, with several NGO's developing a working group to encourage businesses to support fundamental rights.
Thus, we see progress on many fronts in our effort to promote international cooperation to bring democracy and human rights to the Cuban people. There is still much to be done, and we will continue to work with our friends and allies on effective measures to bring a peaceful transition to a free Cuba.
William J. Clinton, Statement on Action on Title III of the Cuban Liberty and Democratic Solidarity (LIBERTAD) Act of 1996 Online by Gerhard Peters and John T. Woolley, The American Presidency Project https://www.presidency.ucsb.edu/node/226199