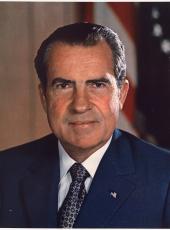 Statement About Signing the Equal Employment Opportunity Act of 1972
I AM gratified to have signed into law H.R. 1746, the Equal Employment Opportunity Act of 1972.
By strengthening and expanding the Government's powers against discrimination in employment, this legislation is an important step toward true equality on the job front. Where promises have sometimes failed, we may now expect results.
This bill is the result of hard work and constructive debate in both branches of Congress by Members of both parties. It is an act of Congressional collaboration in the best tradition.
Under this legislation, the Equal Employment Opportunity Commission and the Justice Department will now be able to make substantial advances against employment discrimination.
The most significant aspect of this legislation is a new authority consistently advocated by this Administration since 1969--a provision arming the Equal Employment Opportunity Commission with power to bring lawsuits in the Federal district courts to enforce the rights guaranteed by title VII of the Civil Rights Act of 1964. Such actions are to be expedited by the courts whenever possible.
Everyone familiar with the operation of title VII over the past 7 years has realized that the promise of that historic legislation would remain unfulfilled until some additional, broad-based enforcement machinery was created. This bill provides that enforcement capability.
Additionally, the legislation extends the protections of title VII to millions of American citizens previously excluded from its coverage. The experiences of both the Justice Department and the EEOC under title VII have demonstrated that considerable discrimination problems have existed in State and local governments, with small employers, and in some educational institutions. Individuals employed in these areas have not heretofore been protected by title VII. This bill corrects that defect.
Also created by this legislation is the Equal Employment Opportunity Coordinating Council, a new interagency group which will coordinate, monitor, and report on the Government's enforcement drive against all remaining job discrimination.
This will support our determination to take continuing care that we are making the most effective efforts to bring about equal opportunity for all in the crucial area of employment rights.
One of the basic principles of our way of life in America has always been that individuals would be free to pursue the work of their own choice, and to advance in that work, subject only to considerations of their individual qualifications, talents, and energies.
This bill, addressing specific needs in concrete and practical ways, is bound to make a real difference in the lives of great numbers of minority Americans. It thus is another step toward writing our best principles into the day-to-day realities of our economic system.
Note: As enacted, H.R. 1746, approved March 24, 1972, is Public Law 92-261, (86 Stat. 103).
Richard Nixon, Statement About Signing the Equal Employment Opportunity Act of 1972 Online by Gerhard Peters and John T. Woolley, The American Presidency Project https://www.presidency.ucsb.edu/node/254560