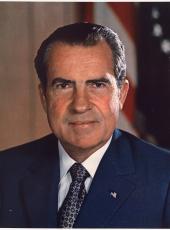 Statement About a National Program for Minority Business Enterprise
I HAVE often made the point that to foster the economic status and the pride of members of our minority groups we must seek to involve them more fully in our private enterprise system. Blacks, Mexican-Americans, Puerto Ricans, Indians, and others must increasingly be encouraged to enter the field of business, both in the areas where they now live and in the larger commercial community-and not only as workers, but also as managers and owners.
Providing better job training and making more jobs available is only part of the answer.
We must also provide an expanded opportunity to participate in the free enterprise system at all levels--not only to share the economic benefits of the free enterprise system more broadly, but also to encourage pride, dignity, and a sense of independence. In order to do this, we need to remove commercial obstacles which have too often stood in the way of minority group members--obstacles such as the unavailability of credit, insurance, and technical assistance.
Involvement in business has always been a major route toward participation in the mainstream of American life. Our aim is to open that route to potentially successful persons who have not had access to it before.
Encouraging increased minority group business activity is one of the priority aims of this administration.
The Federal Government has long been involved in various programs to support the development of new business enterprises and to help struggling new ones become more stable. By one count, there are now 116 such programs, operated by no less than 21 different departments and agencies. These are largely uncoordinated.
Recently, the Small Business Administration launched a program for the stimulation of minority group enterprise. This program has been well received and deserves continuing support .With better coordination, a broader range of Government resources and assistance can be made available.
Many private, voluntary organizations, and many major corporations, have done outstanding work in assisting the development of new business enterprises among minority groups. Often, however, their efforts have not had the Government support that they deserve.
As recommended by the Urban Affairs Council, I intend to establish within the Department of Commerce an Office of Minority Business Enterprise. Under the leadership of Secretary of Commerce Stans, this new office will be the focal point of the administration's efforts to assist the establishment of new minority enterprises and expansion of existing ones. It will seek to concentrate Government resources, and also to involve the business community and others in order to enlist the full range of the Nation's resources.
This new office will be headed by an Assistant to the Secretary of Commerce, and it will have the direct, personal attention of the Secretary. On its own, it will seek to develop new business opportunities. It will coordinate the efforts of other Government agencies in encouraging minority enterprise. It will mobilize financial and other resources, both public and private. It will provide the centralized leadership which in the past has not been sufficiently evident. It will seek to provide a better focus of Government programs at the local level, in order to give them the impact intended. It will constantly review both existing and possible new programs for the encouragement of minority business enterprise, and will make recommendations for further executive and legislative action as appropriate.
I have today issued an Executive order directing the Secretary of Commerce to coordinate Federal programs related to the strengthening of minority business enterprise, and authorizing him to take the necessary steps to do so effectively. The order also provides for the creation of an Advisory Council for Minority Business Enterprise and for the establishment by the Secretary of Commerce of an information center for the compiling and dissemination of information on successful minority business enterprise programs.
This is not a substitute for the many other efforts that continue to be needed if we are to make headway against the ravages of poverty. It is a supplement, dealing with a special but vital part of the broader effort to bring the members of our minority groups into full participation in the American society and economy. Its success will be measured by tangible results, not by the volume of studies.
What we are doing is recognizing that in addition to the basic problems of poverty itself, there is an additional need to stimulate those enterprises that can give members of minority groups confidence that avenues of opportunity are neither closed nor limited; enterprises that will demonstrate that blacks, Mexican-Americans, and others can participate in a growing economy on the basis of equal opportunity at the top of the ladder as well as on its lower rungs.
Note: The national program for minority business enterprise was established by Executive Order 11458.
The White House Press Office released a list of 45 persons involved in various aspects of minority business enterprise who attended the signing of the Executive order.
The text of a news briefing of Secretary of Commerce Maurice H. Stans and Special Assistant to the President Robert J. Brown concerning minority business enterprise was also released.
An announcement of a report to the President on increased job opportunities for minorities was released by the White House on March 20, 1969, and is printed in the Weekly Compilation of Presidential Documents (vol. 5, P. 439).
Richard Nixon, Statement About a National Program for Minority Business Enterprise Online by Gerhard Peters and John T. Woolley, The American Presidency Project https://www.presidency.ucsb.edu/node/239554