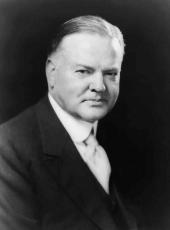 Statement About Appointments to the Federal Reserve Board.
THE PRESIDENT said:
"Mr. Eugene Meyer has been appointed as Governor of the Federal Reserve Board to succeed Mr. [Roy A.] Young.
"Mr. Meyer has, with the exception of the past year, been continuously in Government service since 1917 as Manager of the War Finance Corporation and in reorganization of the Farm Loan Board as its Chairman. His appointment has been strongly endorsed by Mr. Mellon and several members of the Reserve Board and of the Federal Reserve Banks.
"Mr. [Edmund] Platt, who has hitherto represented the New York district, has wished to retire for some time to take up private business. His engagement with an important New York firm is announced today. Mr. Platt has given long and effective public service as a Member of Congress and the Reserve Board, these public services extending over 17 years.
"These changes result in one further vacancy upon the Board which must be filled from one of the following districts:
3rd District: Includes Delaware, parts of New Jersey, eastern Pennsylvania, with headquarters at Philadelphia.
4th District: Includes eastern part of Kentucky, Ohio, western Pennsylvania, northern part of West Virginia, headquarters at Cleveland.
5th District: Includes District of Columbia, Maryland, North Carolina, South Carolina, Virginia, southern part of West Virginia, with headquarters at Richmond.
6th District: Includes Alabama, Florida, Georgia, southern part of Louisiana, southern Mississippi and eastern Tennessee, with headquarters at Atlanta 9th District: Includes northern Michigan, Minnesota, Montana, North Dakota, South Dakota, and northern Wisconsin, with headquarters at Minneapolis.
10th District: Includes Colorado, Kansas, western Missouri, Nebraska, northern New Mexico, northwestern Oklahoma, and Wyoming, with headquarters at Kansas City.
11th District: Includes southeastern Arizona, northern Louisiana, southern New Mexico, southeastern Oklahoma, Texas, with headquarters at Dallas."
Herbert Hoover, Statement About Appointments to the Federal Reserve Board. Online by Gerhard Peters and John T. Woolley, The American Presidency Project https://www.presidency.ucsb.edu/node/211624